April 30, 2023
TEAM SWEDEN'S JONAS ANDERSSON CRUISES TO START-TO-FINISH WIN AT GRAND PRIX OF ZHENGZHOU, CHINA
F1H2O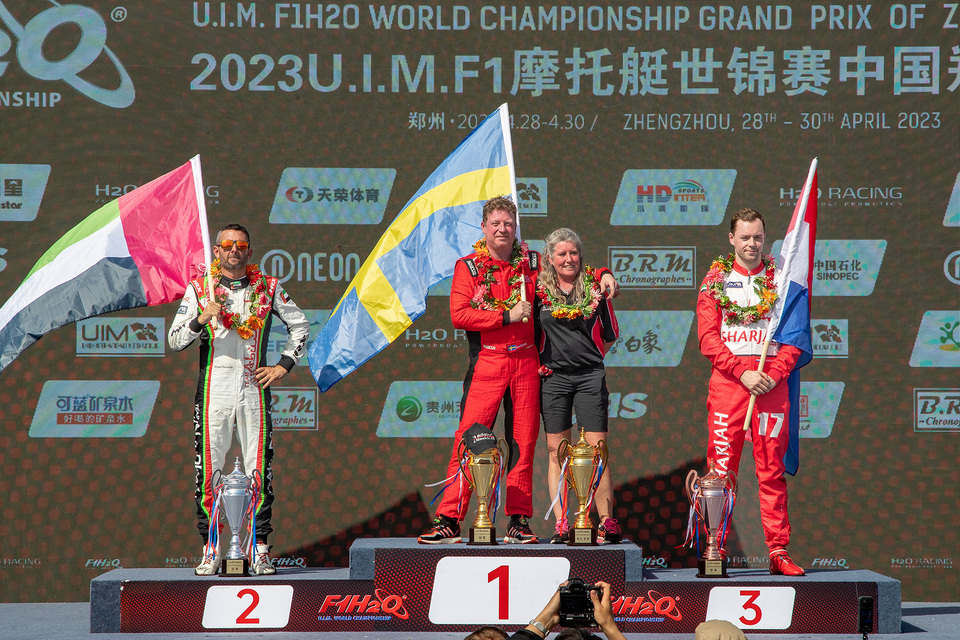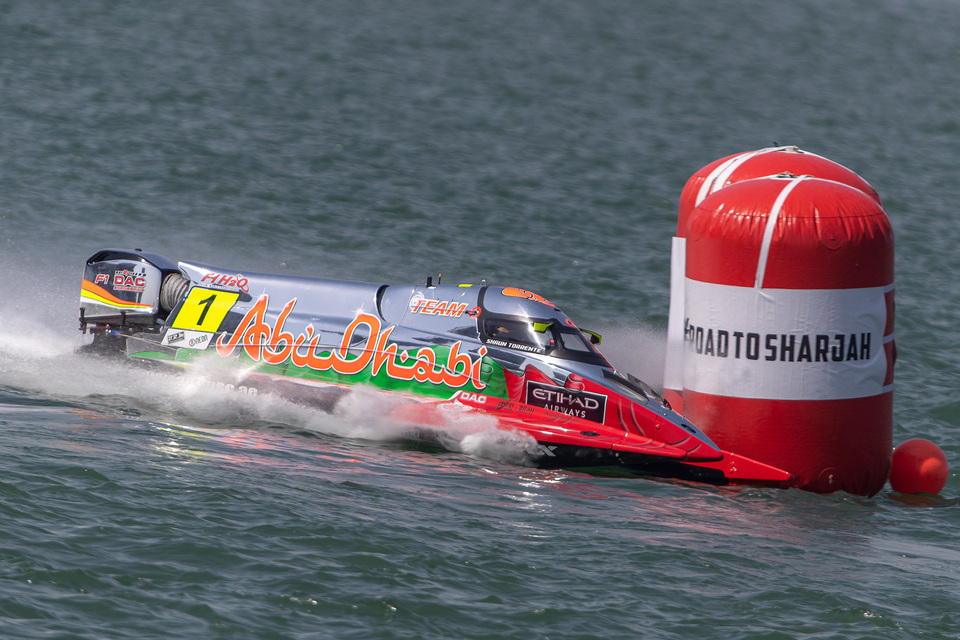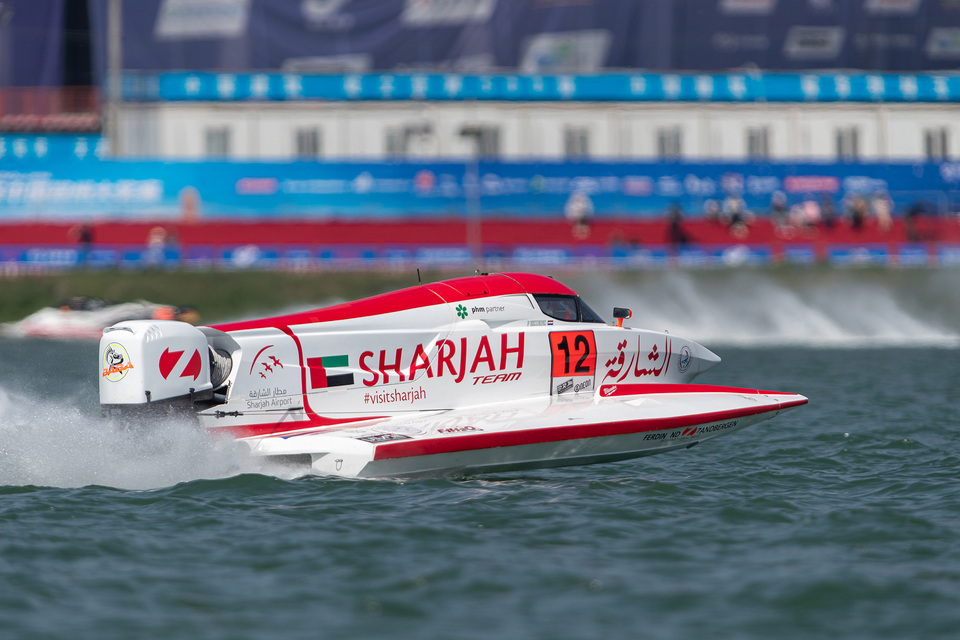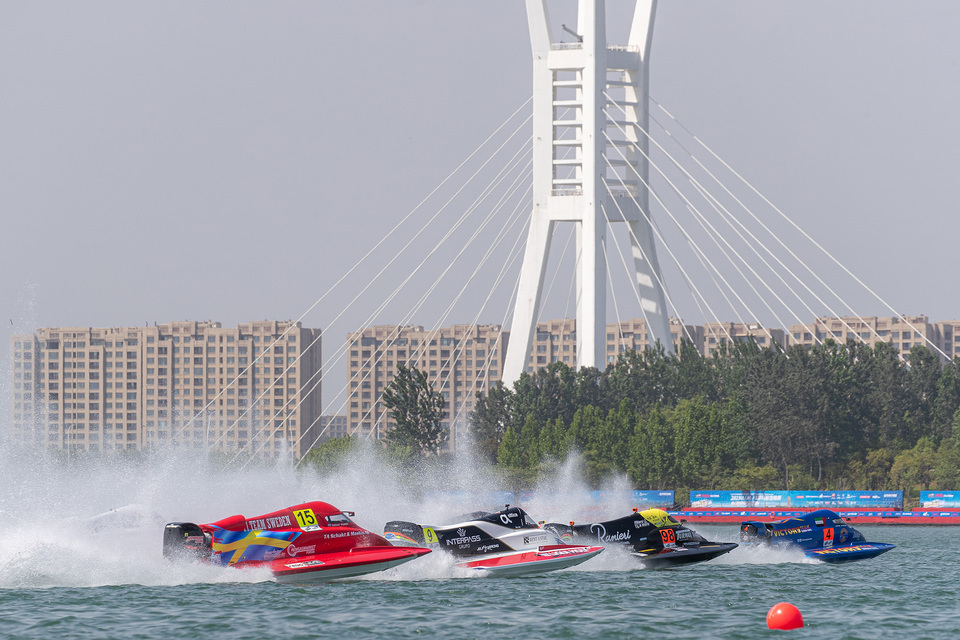 Sunday, April 30: Team Sweden's former World Champion Jonas Andersson clinched an emphatic start-to-finish victory in Sunday's Grand Prix of Zhengzhou, China on the Yellow River.
The Swede led from pole to the chequered flag on a rapid-fire 38-lap race that was not interrupted by any yellow flag incidents. Andersson duly claimed his 11th career GP win by the impressive winning margin of 16.72 seconds over the defending World Champion Shaun Torrente of Team Abu Dhabi. Andersson now has a two-point lead in the Drivers' Championship, with Torrente holding fourth place.
The delighted Swede said: "I almost missed the start because I had the wrong set-up on my engine. We could have been faster but we made a safe choice and it was not maybe correct, but we win. It was a hard one at the start and I had to really push hard to beat Peter (Morin) ton the first turn. After, it was a smooth race and a great result for me and the team."
Torrente added: "It was a good race. The organisation here was awesome. They did an amazing job. It was one of the best races we have been to in China. The venue was great but the conditions were difficult. It was different both days and was fun. I had a good race and a good start but Jonas was just too quick today."
With the Sharjah Team's Sami Seliö dropping out of contention and a possible third place on lap 28, his team-mate Ferdinand Zandbergen slowly began to work his way through the field and the Dutchman secured 12 vital championship points for claiming the final spot on the podium.
Zandbergen said: "I didn't have a great start but I had opportunities because of the fights going on in front of me. While they were fighting I was able to overtake four at one time! I was really lucky. I was in the right place at the right time and made it to third from 11th position."
The Victory Team's Erik Stark moved up to second in the championship standings with fourth place after suffering battery issues during qualifying on Saturday. Finland's Filip Roms came home in fifth for Mad Croc Gillman Racing and Marit Strømøy enjoyed much better fortune to finish sixth
Team Abu Dhabi's stand-in driver Rashed Al-Qamzi came home in seventh, Alberto Comparato was eighth and Kalle Viippo and Brent Dillard rounded off the top 10. Former championship leader Bartek Marszalek retired with technical issues early in the race and slips to third in the points' standings. Fifteen of the 20 racers have now scored points after the opening two rounds in Indonesia and China.
The result means that Team Abu Dhabi holds a one-point advantage over the Sharjah Team in the UIM F1H2O Teams' Championship. The Strømøy Racing F1H2O Team and Team Sweden are two points further behind in equal third.
Grand Prix of Zhengzhou, China
Nineteen boats and drivers from 12 nations made the start of the second round of the championship and a 38-lap race on a tricky Yellow River course that had seen changeable weather conditions all weekend. Andersson started on pole for the ninth time from Morin and Seliö, with the defending World Champion Torrente down in fourth and series leader Marszalek in 10th.
Team Sweden's Kalle Viippo dropped to the foot of the grid after an engine change and accident damage after Saturday's spectacular crash forced the Victory Team's Ahmad Al-Fahim to miss the race.
Andersson managed to fend off a fierce challenge from Morin through the opening turn buoys to maintain his advantage in more favourable racing conditions. Torrente was on a mission and the American managed to pass Morin and snatch second place but Andersson gradually began to edge clear of all his rivals.
A disappointed Marszalek ground to a halt on the course with technical issues and was unable to follow up on his dramatic victory at the opening round in Indonesia. He was soon followed back to the pontoon by Morin, who withdrew with his own mechanical maladies after a career-best second place in BRM Qualifying on Saturday. Ben Jelf was also side-lined with technical issues and returned to the pontoon, as Al-Qamzi climbed to fourth with Andersson, Torrente and Seliö still running clear of the field
Mad Croc Gillman Racing's Grant Trask was running strongly early in the race but began to slow on the course and soon retired the boat that had been repaired after his crash on Saturday. After his battery issues in qualifying, Stark was running well just behind Filip Roms in sixth place. By lap 22, Andersson was running 12.17 seconds ahead of Torrente and Stark continued to pressurise Roms in the battle for fifth.
Andersson maintained his composure into the closing laps and romped to a comfortable start-to-finish victory to reach the chequered flag ahead of Torrente, with Zandbergen, Stark and Roms rounding off the top five.
Seliö dropped out of contention on lap 28. "Boat broken, running at third position then but, in the end, Ferdinand got podium and third, so good for the team," said the Finn.
The UIM F1H2O World Championship continues with the Grand Prix of France in Mâcon on June 30th-July 2nd.