February 25, 2023
TEAM SWEDEN'S JONAS ANDERSSON BREAKS THE ONE-MINUTE BARRIER IN FREE PRACTICE IN INDONESIA
F1H2O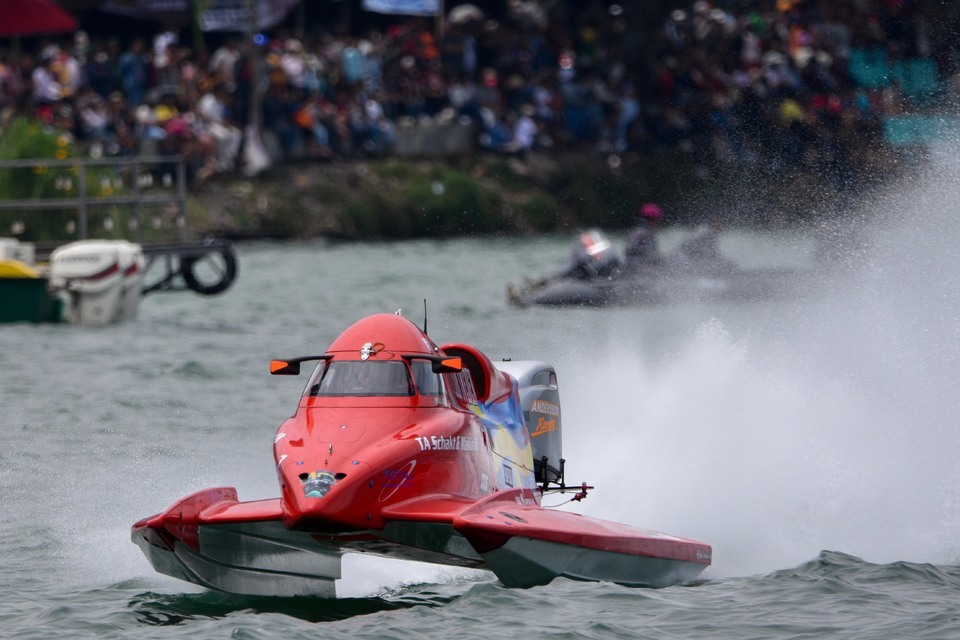 Saturday, February 25: Team Sweden's former World Champion Jonas Andersson became the first driver to break the one-minute lap time barrier during free practice for Sunday's Kopiko Grand Prix of Indonesia. A flying lap of 59.90sec around the demanding Lake Toba circuit in Sumatra was enough for the Swede to win the free practice session by 0.216 seconds.
The defending World Champion Shaun Torrente was Andersson's closest challenger and his best tour of 1min 00.12sec is an early indication that the Team Abu Dhabi man is ready to resume the thrilling duel that ended with him winning a third world title last December.
With a new engine and new propellers, a refreshed Norwegian Marit Strømøy finished the session in third place and her team-mate Bartek Marszalek and Thani Al-Qamzi of Team Abu Dhabi rounded off the top five.
All 20 racers managed to post credible times around the Lake Toba course in advance of BRM Qualifying on Saturday afternoon.
2023 Kopiko Grand Prix of Indonesia – free practice (Saturday):
1. Jonas Andersson (SWE) Team Sweden 59.90sec
2. Shaun Torrente (USA) Team Abu Dhabi 1min 00.12sec
3. Marit Strømøy (NOR) Strømøy Racing F1H2O Team 1min 00.18sec
4. Bartek Marszalek (POL) Strømøy Racing F1H2O Team 1min 00.48sec
5. Thani Al-Qamzi (UAE) Team Abu Dhabi 1min 00.63sec
6. Kalle Viippo (FIN) Team Sweden 1min 00.78sec
7. Sami Seliö (FIN) Sharjah Team 1min 01.25sec
8. Erik Stark (SWE) Victory Team 1min 01.28sec
9. Peter Morin (FRA) China CTIC Team 1min 01.50sec
10. Alberto Comparato (ITA) Comparato F1 1min 02.27sec
11. Brent Dillard (USA) China CTIC Team 1min 02.32sec
12. Ahmed Al-Fahim (UAE) Victory Team 1min 03.10sec
13. Cédric Deguisne (FRA) Maverick Racing 1min 04.59sec
14. Alec Weckström (FIN) Gillman Racing 1min 04.82sec
15. Ferdinand Zandbergen (NLD) Sharjah Team 1min 05.10sec
16. Alexandre Bourgeot (FRA) Maverick Racing 1min 05.62sec
17. Brock Cohen (AUS) Comparato F1 1min 06.41sec
18. Duarte Benavente (POR) F1 Atlantic Team 1min 08.04sec
19. Ben Jelf (GBR) F1 Atlantic Team 1min 08.26sec
20. Filip Roms (FIN) Gillman Racing 1min 11.10sec