February 24, 2023
PRESS CONFERENCE ON SHORES OF LAKE TOBA WRAPS UP PRE-RACE FORMALITIES IN INDONESIA
F1H2O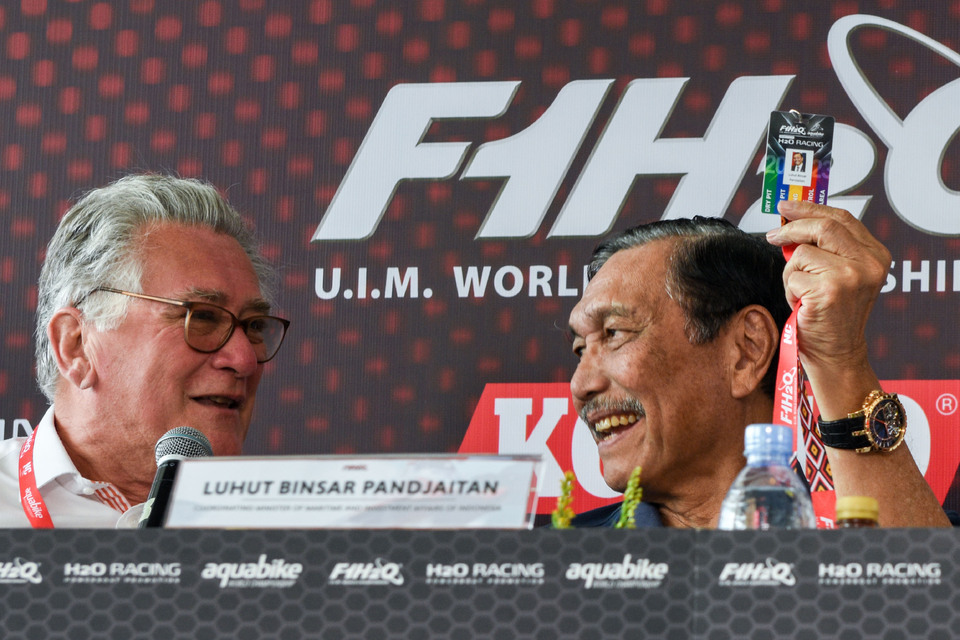 Friday, February 24: The last of the pre-race formalitIes before this weekend's Kopiko Grand Prix of Indonesia was the official press conference on the shores of Lake Toba.
Friday's pre-race press conference was attended by H2O Racing founder Nicolò di San Germano, Maya Watano, the Marketing and Tourism promotor for InJourney. Luhut Binsar Pandjaitan, the coordinating Minister of Maritime Affairs and Investment Affairs for Indonesia, Bapak Nahot Napitupul, Operational Director PT Parna Raya, and drivers Shaun Torrente, Marit Strømøy and Alec Weckström.
H2O Racing founder Nicolò di San Germano said: "We are delighted to restart racing here on Lake Toba after the nightmare of Covid. We started 40 years ago on Lake Como. Those catamarans were presented for the first time there. It is a well-known world destination and there is a reason why we are now at Lake Toba in this beautiful location. It reminds us a lot of Lake Como. We now restart after Covid here and this is a sign of the growth of our sport.
"We will have the biggest television coverage ever. We will have a winner on the water after the weekend but, behind the winner, there is a team, a winning team, and that is the organising team here in Indonesia. What you have done has shown the potential of team work and extraordinary potential. I would say the first winner of the weekend is the local organising team."
Luhut Binsar Pandjaitan added: "This is the first of what we hope will be five consecutive years and maybe even 15 when we will hold the event in Indonesia. As the host of international powerboat, Lake Toba will become an international topic of conversation. According to our estimations, it will be broadcast to more than 180 million viewers across the world."
Luhut Binsar Pandjaitan also added that Indonesia would like to have its own race team fully operational within two or three years.
After free practice, starting at 10.00hrs (0300hrs CET), the BRM Qualifying sessions take centre stage on Lake Toba from 15.00hrs (08.00hrs CET) on Saturday morning.