June 4, 2022
OFFICIAL START OF GRAND PRIX OF FRANCE IN MACON
F1H2O
Torrente quickest in extra free practice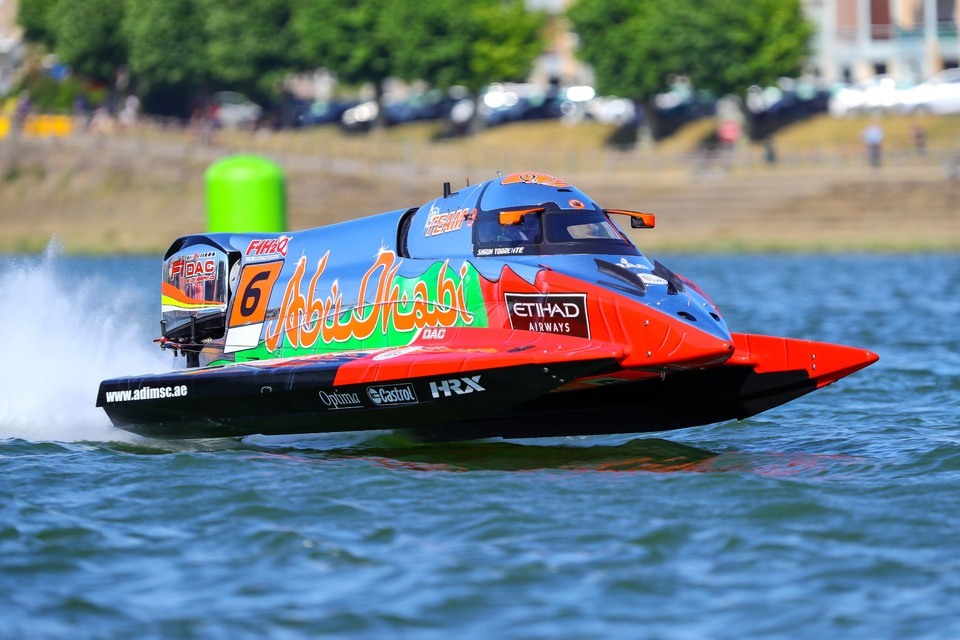 Saturday, June 4th, Macon (France) – First day of the Grand Prix of France yesterday in Macon with drivers registration followed by technical scrutineering.
Registration didn't reserved last minute surprises and all the drivers showed up in the Paddock alongside the Saone River.
Two times world champion Shaun Torrente grabbed top spot in the extra free practice session with a handful of drivers enjoying a spell at the top of the time sheets.
Abu Dhabi driver produced his best run with a 0:32.84s lap with young italian Alberto Comparato, eager to repeate his best performance on pole in San Nazzaro last year, second with a gap off only 0.15 in his best lap and Norway's Marit Stromoy third with a best lap of 0:33.34.
Defending World Champion Jonas Andersson was in the mix and on the pace in fourth place, with Alec Weckstrom ending the day in fifth spot.
SharjahTeam's Sami Selio and France's Philippe Chiappe were the last two drivers to finish their best lap within one second from Torrente's best lap.
Unfortunately home driver Cedric Deguisne wasn't able to produce a good result due to electric problems with his boat.
Free practice today from 11.15 followed by official qualifications in the afternoon starting at 3 pm.