April 25, 2023
ALL TO PLAY FOR AS WIDE-OPEN UIM F1H2O WORLD CHAMPIONSHIP DESCENDS UPON ZHENGZHOU
F1H2O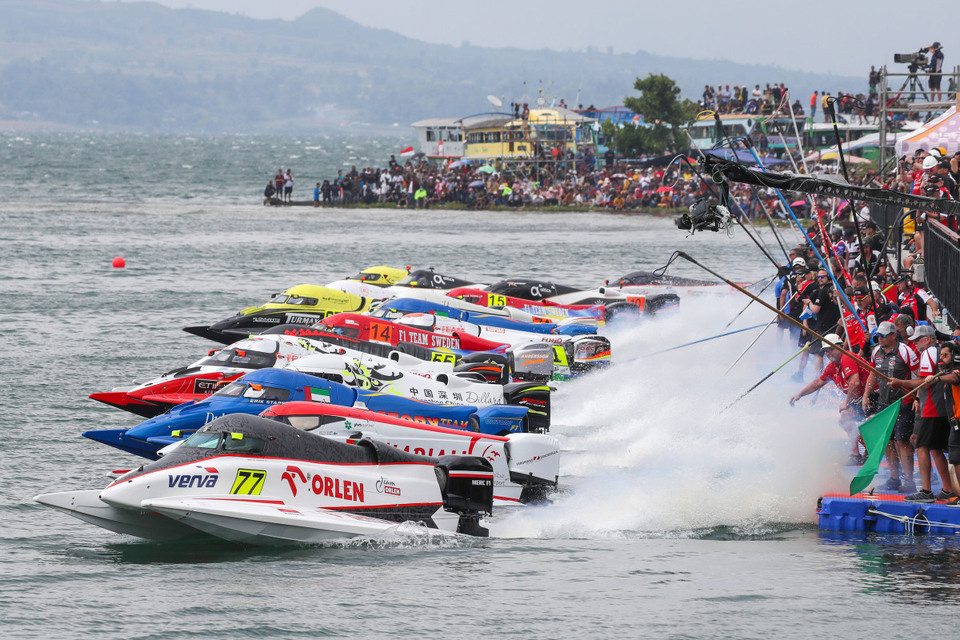 Tuesday, April 25: What promises to be one of the most exciting racing championships on record descends upon the Chinese city of Zhengzhou this weekend, when 10 teams and 20 drivers hit the Yellow River for the second round of the UIM F1H2O World Championship, the Grand Prix of Zhengzhou, China.
After a dramatic and spectacular start to the season on Indonesia's Lake Toba, the series stays in Asia for round two before heading to Europe for round three in France in June. Round one attracted one of the largest spectator attendances in powerboating history and was an unmitigated success. Early feedback suggests that China's return to the series for the first time since 2019 will be equally as spectacular.
Before he passed the final marker buoy to take a first ever chequered flag in Indonesia, Bartek Marszalek's best Grand Prix finish had been second place in race two in Sharjah last December. But the Pole earned pole position on Lake Toba and held on to his lead throughout a pulsating race to earn a first career win on his 50th GP start on a weather-shortened race.
Not only did it give the Warsaw racer a five-point lead to take into this weekend on the Yellow River, but the Strømøy Racing F1H2O Team leads the Teams' Championship for the first time by a similar margin. Team-mate Marit Strømøy retired from round one with fuel pressure issues and a lack of engine power and has opted to run a four-stroke Mercury engine in her DAC for this weekend's race.
Team Abu Dhabi's Shaun Torrente is the defending champion and many people's favourite to win a fourth title in 2023. He qualified second behind the Pole for the opening race after a potentially faster lap had been cancelled out. The Florida driver trailed Marszalek until the last few laps of the 18-lap sprint and, when the action resumed after that late yellow flag with only two laps remaining, he managed to overtake and seal what he thought was a first win of the season. Race officials thought otherwise, however, and Torrente was deemed to have made a jump start, was handed a one-lap penalty and dropped back to finish ninth overall.
This weekend's Torrente teams up with Rashid Al-Qamzi, who replaces Thani Al-Qamzi in the second Team Abu Dhabi boat. The Emirati operation won last year's Teams' Championship and will be hoping that the three-time UIM F2 World Champion settles in quickly to racing in F1H2O and is able to challenge for a podium finish.
Sami Seliö endured a disappointing 2022 season in his Sharjah Team boat, despite having obvious pace at all the races. The flying Finn is determined to make amends this year and the double World Champion qualified fourth for the first race and went on to finish second overall, with the Sharjah Team also holding second place in the Teams' Championship. Seliö has been testing and training young drivers in the UAE in the build-up to the Chinese race and is quietly confident of another excellent performance.
Dutch team-mate Ferdinand Zandbergen crashed out of the opening race on Lake Toba and forced that late yellow flag. Pointlesss after round one, he will be hoping for better fortune on the Yellow River.
Sweden's Erik Stark has been knocking on the door of a World Championship title for several seasons and the late pre-season announcement that he was to return to action with Dubai's Victory Team was a major boost for the championship and a blow to some of his title rivals. Erik was in fine form from the outset: he qualified third in Indonesia and rounded off the podium places to arrive in China well-placed to push for the World Championship lead this weekend.
His team-mate is Emirati Ahmad Al-Fahim. He finished 10th in Indonesia and claimed a point towards the Drivers' Championship.
When Team Sweden's former World Champion Jonas Andersson dropped back with technical issues over the last couple of laps to eventually finish eighth overall, China CTIC Team's Peter Morin stormed through to claim fourth position. The Frenchman's rookie team-mate Brent Dillard made a superb debut in this discipline to finish sixth and his valuable points moved the China CTIC Team into third in the Teams' Championship. Both drivers will be keen to show their prowess in front of a partisan local crowd that is sure to be supporting them from the outset.
Mad Croc Gillman Racing had hoped for better fortunes on the opening round: while Alec Weckström struggled with mechanical issues all weekend and failed to start the race, fellow Finn Filip Roms rewarded the team's hard work with a seventh-place finish. Shortly after the first round, Mad Croc Gillman Racing announced that Weckström was no longer part of the team and his place has been taken by the experienced Australian racer Grant Trask. The Brisbane man will be taking part in his 16th Grand Prix and hoping to better a sixth-place finish he achieved in Sharjah in 2016.
Jonas Andersson's eighth-placed finish in Indonesia was seen as an early season setback for the former World Champion, who ran Torrente so close to the title again in 2022. The Team Sweden driver is a veteran of 110 Grand Prix starts and has taken 10 wins and 27 podium finishes on the circuit since making his first appearance in 2006. Andersson teams up with Kalle Viippo again in Zhengzhou: the Finn finished 14th on race one.
Maverick Racing's Alexandre Bourgeot and Cédric Deguisne were classified out of the points in 11th and 13th on Lake Toba but the experienced French duo have developed a level of consistency in recent races and will be hoping to be in the points on the Yellow River in their Moore race boats.
Young Italian Alberto Comparato was sandwiched between the two Frenchmen in 12th in Indonesia after feeling unwell during the morning's qualifying session. He has the pace to challenge for a top five position and is confident that his 16th race start can net a podium finish to add to the one he achieved in Sharjah last December. Comparato's team mate is the Australia's Brock Cohen, who suffered a disappointing start to his F1H2O career on Lake Toba and retired after just one lap of his first race with technical issues.
Duarte Benavente and Ben Jelf complete the driver line-up in their F1 Atlantic Team boats. Benavente finished out of the points in 15th on round one, while Jelf was sidelined with engine issues after completing 10 race laps. The Briton had suffered a blown piston in the morning's qualifying and, despite the sterling efforts of the team to get his Dragon boat ready for the race, he was not able to finish.