October 14, 2022
TORRENTE FASTEST IN SHORTENED EXTRA FREE PRACTICE SESSION
F1H2O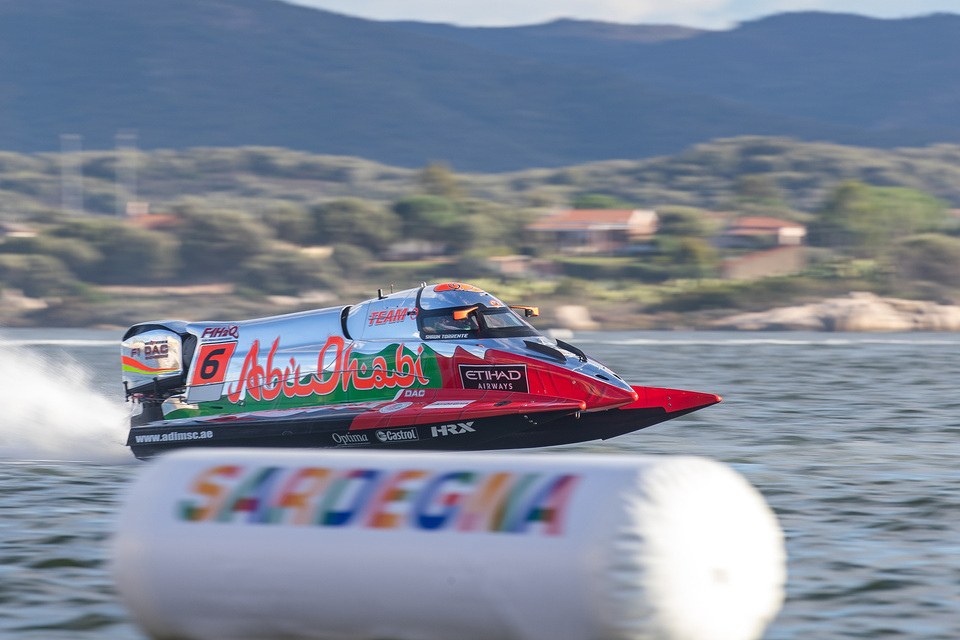 OLBIA (SARDINIA): Friday, October 14: A fastest lap of 35.04 seconds was sufficient for Team Abu Dhabi's Shaun Torrente to top the times in Thursday afternoon's extra free practice session for this weekend's Italian Grand Prix of Regione Sardegna, round four of this year's UIM F1H2O World Championship.
The Team Abu Dhabi boats were first on to the water and Torrente laid down the early gauntlet with a lap of 35.06sec at the start of the session, with Phillipe Chiappe a mere 0.02sec adrift of the Florida driver. Torrente shaved another two-tenths of a second off his best tour shortly before the session was yellow-flagged by the Race Director and then halted to enable officials to make modifications to the race course.
Tomorrow (Saturday), a one-hour free practice session follows the customary drivers' briefing and the all-important qualifying sessions take centre stage on the 1620-metre, eight-pin course from 15.00hrs.
2022 Italian Grand Prix of Regione Sardegna - extra free practice result:
| | |
| --- | --- |
| 1. Shaun Torrente (USA) Team Abu Dhabi | 35.04sec |
| 2. Phillipe Chiappe (FRA) China CTIC Team | 35.08sec |
| 3. Thani Al-Qemzi (UAE) Team Abu Dhabi | 35.67sec |
| 4. Alberto Comparato (ITA) Comparato F1 | 35.77sec |
| 5. Sami Selio (FIN) Sharjah Team | 35.94sec |
| 6. Cédric Deguisne (FRA) Maverick Racing | 36.77sec |
| 7. Jonas Andersson (SWE) Team Sweden | 36.83sec |
| 8. Ferdinand Zandbergen (NED) Sharjah Team | 37.36sec |
| 9. Alexandre Bourgeot (FRA) Maverick Racing | 40.07sec |
| 10. Alec Weckström (FIN) Gillman Racing | 44.42sec |
| 11. Filip Roms (FIN) Gillman Racing | 46.22sec |
| Duarte Benavente (POR) F1 Atlantic Team | DNS |
| Kalle Viippo (FIN) Team Sweden | DNS |
| Bartek Marszalek (POL) Strømøy Racing F1H2O Team | DNS |
| Marit Strømøy (NOR) Strømøy Racing F1H2O Team | DNS |