June 29, 2018
TITLE RACE SET TO RATCHET UP A LEVEL IN EVIAN AS CHAMPIONSHIP HITS 275TH GRAND PRIX MILESTONE
F1H2O
*Top five in title race split by just eight points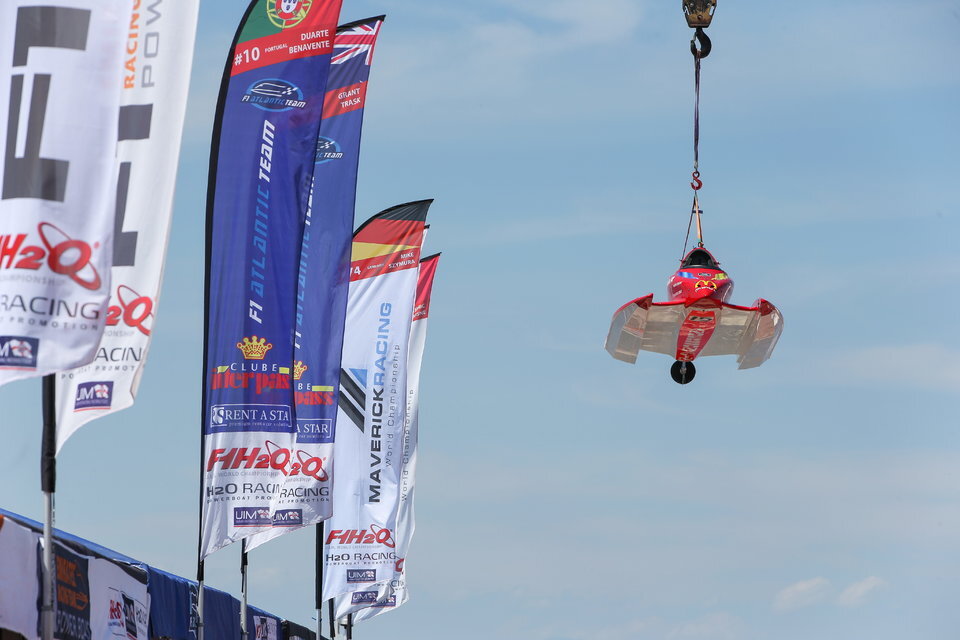 Friday, 29 June EVIAN, (France): As teams complete preparations and make their final adjustments before tomorrows' first practice and BRM Official Qualifying, the title race looks set to ratchet up a level as the UIM F1H2O World Championship celebrates its 275th Grand Prix.
Philippe Chiappe heads into the UIM F1H2O Grand Prix of France in Evian this weekend at the top of the standings on 27 points in a tight title race with just eight points splitting the top five and his CTIC F1 Shenzhen China outfit on top in the Teams Championship, his teammate Peter Morin in fifth place on 19 points.
Thani Al Qemzi is three points adrift and leads the chasing pack for Abu Dhabi from team new boy and London GP winner Erik Stark with Portugal winner and teammate Shaun Torrente a point behind him.
Torrente and Victory Team's Alex Carella's have ground and points to make up after both failed to go the distance in London, Carella deciding to switch from a Victory to a BABA hull.
Official practice starts at 10:15hrs with BRM Official Qualifying at 16:20hrs.
2018 UIM F1H2O WORLD CHAMPIONSHIP STANDINGS – after round 2:
1. 7 Philippe Chiappe (fra) 27pts
2. 5 Thani Al Qemzi (uae) 24pts
3. 35 Erik Stark (swe/uae*) 21pts
4. 6 Shaun Torrente (usa/uae*) 20pts
5. 8 Peter Morin (fra) 19pts
6. 1 Alex Carella (ita/uae*) 9pts
7. 3 Ahmed Al Hameli (uae) 8pts
8. 11 Sami Selio (fin) 7pts
9. 9 Grant Trask (aus) 5pts
10. 10 Duarte Benavente (por) 5pts
11. 50 Marit Stromoy (nor) 4pts
12. 37 Francesco Cantando (ita) 3pts
13. 15 Erik Edin (swe) 2pts
14. 73 Cedric Deguisne (fra) 2pts
(*denotes international racing super license)