October 15, 2022
THANI AL-QAMZI BREAKS THE 30-SECOND BARRIER TO CLAIM POLE POSITION FOR THE ITALIAN GRAND PRIX OF REGIONE SARDEGNA
F1H2O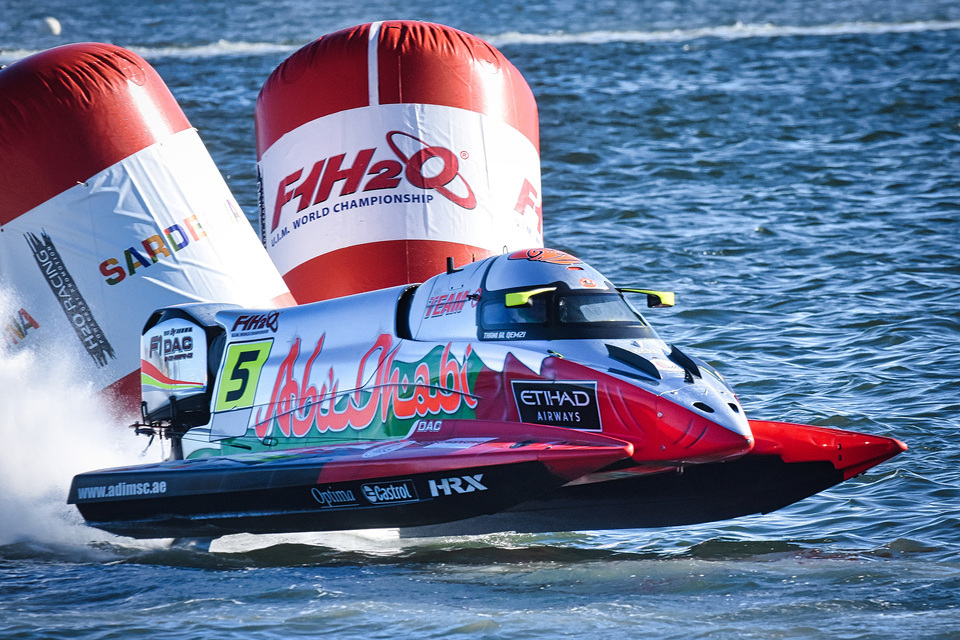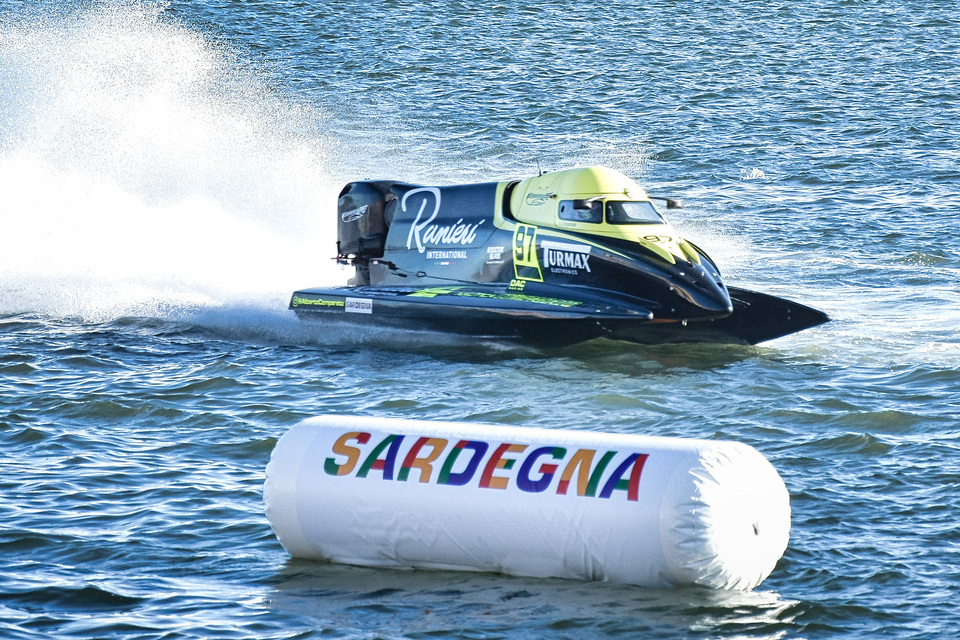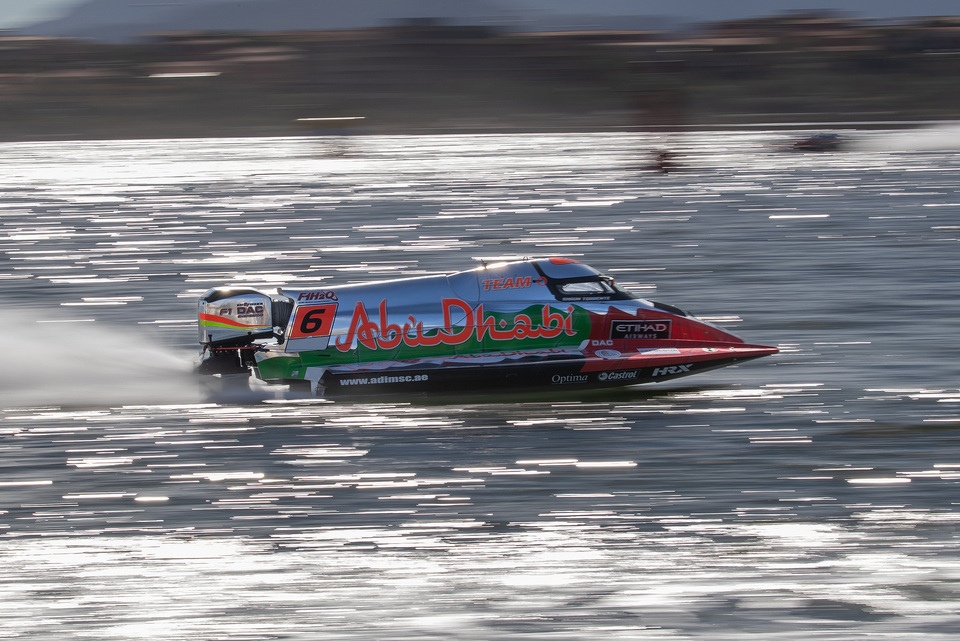 OLBIA (SARDINIA): Saturday, October 15: Team Abu Dhabi's Thani Al-Qemzi set the fastest lap of the entire weekend and snatched pole position for Sunday's Italian Grand Prix of Regione Sardegna with a stunning run of 29.92sec in a dramatic Q3 qualifying session in Olbia on Saturday afternoon.
Thani Al-Qemzi, Jonas Andersson, Alberto Comparato, Shaun Torrente, Sami Selio and Alec Weckström had qualified for the 10-minute, six-boat shoot-out. Al-Qemzi's flying tour was sufficient to get the measure of second-placed Comparato by 0.21 seconds. The Emirati's American team-mate Torrente rounded off the podium places.
Defending World Champion Jonas Andersson will start the fourth round of the UIM F1H2O World Championship from fourth position. Two-time World Champion Sami Selio rewarded the Sharjah Team for rebuilding his damaged Baba with fifth place and Gillman Racing's young Finn Weckström drove well to snatch sixth.
Torrente opened up with a 30.85sec flier and managed to overhaul Al-Qemzi's opener of 30.88sec. It mattered not, because both Andersson and Comparato ran even quicker until Al-Qemzi regained the advantage with a stunning run of 29.92sec – the first sub-30-second lap of the weekend.
Weckström pitted after two laps and remained in sixth with six minutes of the session remaining. Al-Qemzi continued to lead, although Andersson snatched second with a 30.84sec run. Weckström returned to action after a propeller change and carded a best run of 30.80sec to displace Torrente and push the American down to sixth.
Torrente was not to be denied and moved into fourth, as Comparato regained second place with a 30.12sec tour. Weckström then overtook Selio to snatch fifth place in a setting sun off the coast of Olbia. As the clock ran down, Al-Qemzi continued to lead from Comparato, Andersson and Torrente, although Selio regained fifth at the expense of his fellow Finn.
Into the last four minutes and Torrente moved ahead of Andersson by 1/100ths of a second to snatch third and the six boats held station heading into the last two minutes. There were no last-minute movements and the six held station, with Al-Qemzi claiming pole position from Comparato and Torrente.
Q1 and Q2 were split into two sessions on this occasion with eight boats heading out in group one and the remaining seven carding their times in a second stint. Comparato won the first stint with a lap of 30m56sec during his 24 laps on the shortened course and Selio and Weckström rounded off the top three places. Strømøy, Zanderbergen and Chiappe were less than a second behind the leading Italian in fourth, fifth and sixth places.
Al-Qemzi and Andersson moved ahead of Comparato in the next stint with laps of 30.11sec and 30.52sec but the top six drivers were separated by less than 0.28 seconds, which set up the prospect of a thrilling Q3 shoot-out between Al-Qemzi, Andersson, Comparato, Torrente, Selio and Weckström. Strømøy and Zandbergen narrowly missed out on the shoot-out and qualified in seventh and eighth. Al-Qemzi was actually later docked his fastest lap for cutting the exit lane and handed the session win to Andersson.
Tomorrow (Sunday), drivers will be permitted to take part in a second practice before the 2022 Italian Grand Prix of Regione Sardegna takes centre stage after the customary F1H2O parade lap from 15.00hrs.
2022 Italian Grand Prix of Regione Sardegna – qualifying result:
| | |
| --- | --- |
| 1. Thani Al-Qemzi (UAE) Team Abu Dhabi | 29.92sec |
| 2. Alberto Comparato (ITA) Comparato F1 | 30.13sec |
| 3. Shaun Torrente (USA) Team Abu Dhabi | 30.27sec |
| 4. Jonas Andersson (SWE) Team Sweden | 30.28sec |
| 5. Sami Selio (FIN) Sharjah Team | 30.40sec |
| 6. Alec Weckström (FIN) Gillman Racing | 30.44sec |
| 7. Marit Strømøy (NOR) Strømøy Racing F1H2O Team | 31.06sec |
| 8. Ferdinand Zandbergen (NED) Sharjah Team | 31.10sec |
| 9. Phillipe Chiappe (FRA) China CTIC Team | 31.23sec |
| 10. Kalle Viippo (FIN) Team Sweden | 31.57sec |
| 11. Bartek Marszalek (POL) Strømøy Racing F1H2O Team | 31.62sec |
| 12. Cédric Deguisne (FRA) Maverick Racing | 32.60sec |
| 13. Duarte Benavente (POR) F1 Atlantic Team | 32.66sec |
| 14. Filip Roms (FIN) Gillman Racing | 32.70sec |
| 15. Alexandre Bourgeot (FRA) Maverick Racing | 33.66sec |