June 5, 2022
SHAUN TORRENTE WINS GRAND PRIX OF FRANCE
F1H2O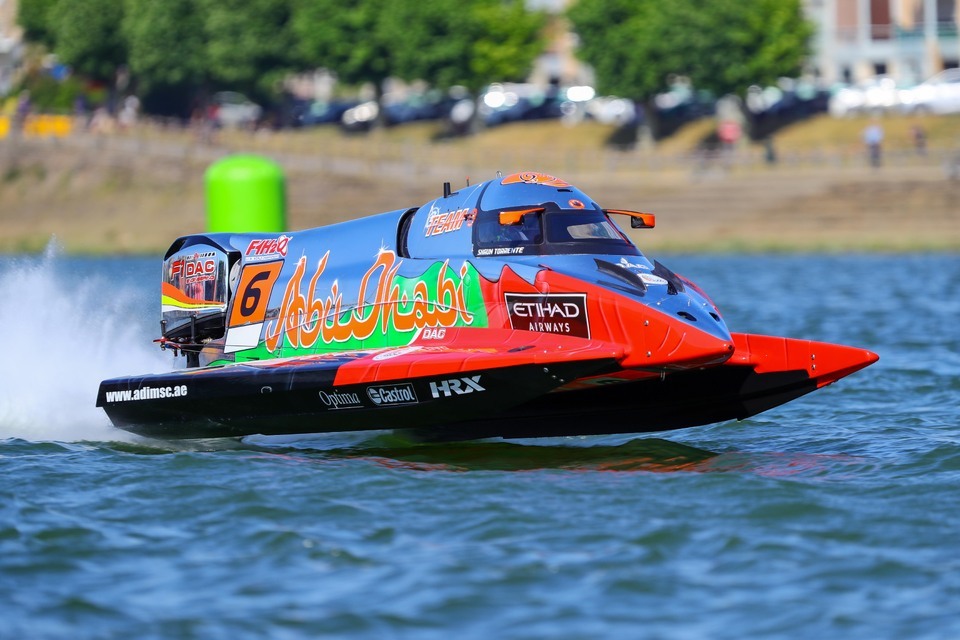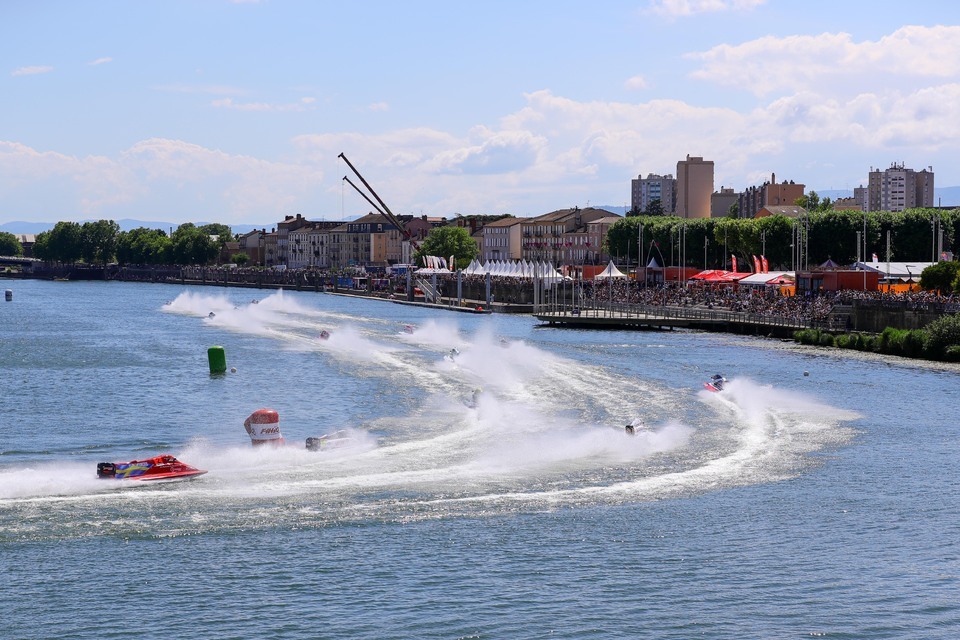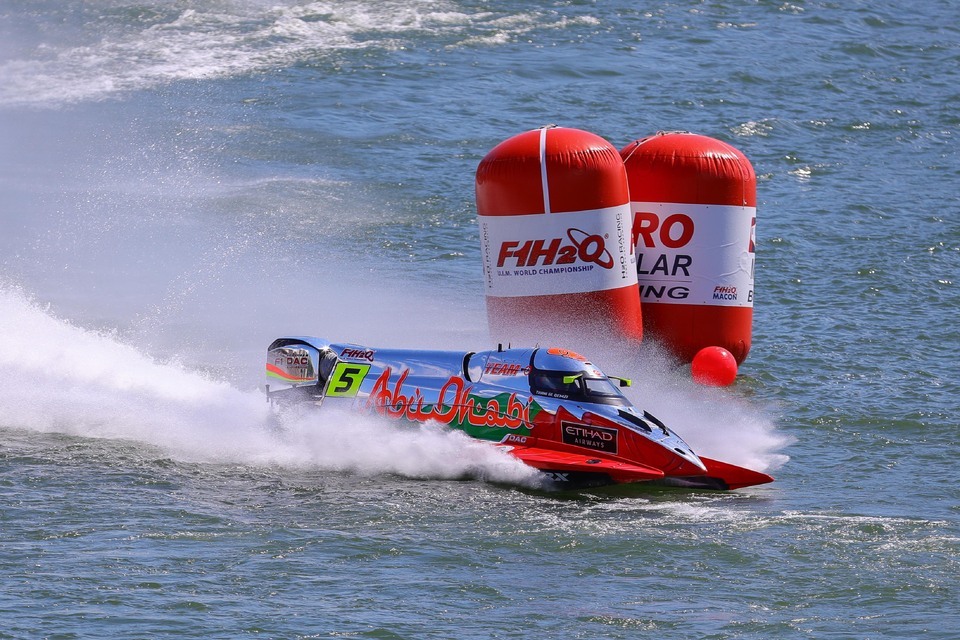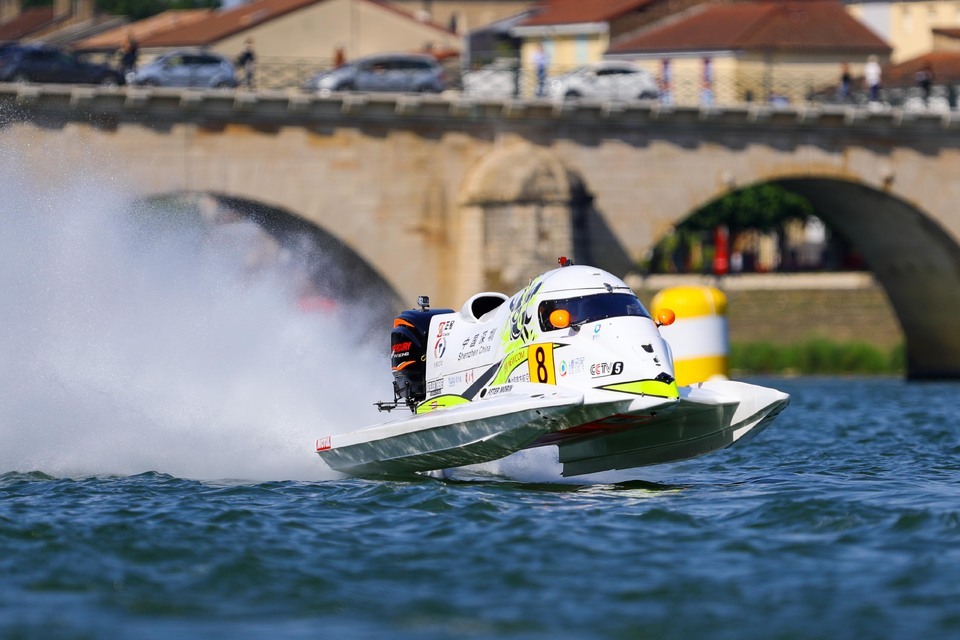 Sunday, June 5th, Macon (France): Team Abu Dhabi enjoyed a perfect start to the 2022 UIM F1H2O World Championship today in Macon as Shaun Torrente won the Grand Prix of France from team-mate Thani Al Qemzi.
"It is great to start the season as a winner" said Torrente – It was a difficult race: the circuit is narrow it was very windy and with rough vawes, but thanks also to the great job of my team, I was able to control my boat and take the victory.
The battle for the win and podium places hinged on a dramatic turn of events on lap 38 when pole-sitter and race leader Sharjah Team's Sami Selio suddenly slowed and pulled off the circuit handing the lead to Torrente, with his teammate Thani Al Qemzi immediately after him.
Third place went to the french driver of China Team Peter Morin who was able to control his fourth position from pole from beginning and going on third place after the withdrawal of Sami Selio.
Behind the leaders an epic fight for the final podium slot unfolded between China Team's Peter Morin and Gillman Racing's Alec Weckstrom this last one trying till the end to overtake the French driver but enable to do it and finishing fourth.
Defending World Champion Jonas Andersson made up two places but was never in contention to challenge the front runners and was unchallenged in fifth .
Marit Stromoy improved from eighth from the pole finally ending in sixth spot, one lap down with Kalle Vippo from Team Sweden seventh.
Three laps down and eighth position for Stromoy's teammate Bartek Marszalek with a french trio following him : former World Champion Philippe Chiappe, the local driver from Macon Cedric Deguisne with his teammate in Mawerick Team Alexandre Bourgeot.
Atlantic Team Duarte Benavente was able to run for only 16 lap for engine problems and finished 13th ahead of Italian Alberto Comparato who, despite his second quickest time in this morning free practice, was forced to stop for technical problems at lap 16.
It was a weekend of mixed fortunes for the young driver of Sharjah Team Ferdinand Zandbergen enjoying good results in free practice and qualifying, despite crashing out two times, but forced to retire on lap 14 and finishing in the last position of the Grand Prix of France.
The second round of the UIM F1H2O World Championship will be on July 15-17 in San Nazzaro, Italy for the Grand Prix of Italy.
UIM F1H2O Grand Prix of France - top 6
1. Shaun Torrente (Usa/UAE)
2. Thani Al Qemzi (UAE) + 5.66
3. Peter Morin (Fra) + 9.38
4. Alec Weckstrom Fin +12.25
5. Jonas Andersson (swe) + 16.22
6. Marit Stromoy (nor) L1