September 14, 2022
POINTS LEADER TORRENTE FOCUSED TO STAY ON TOP IN ITALY!
F1H2O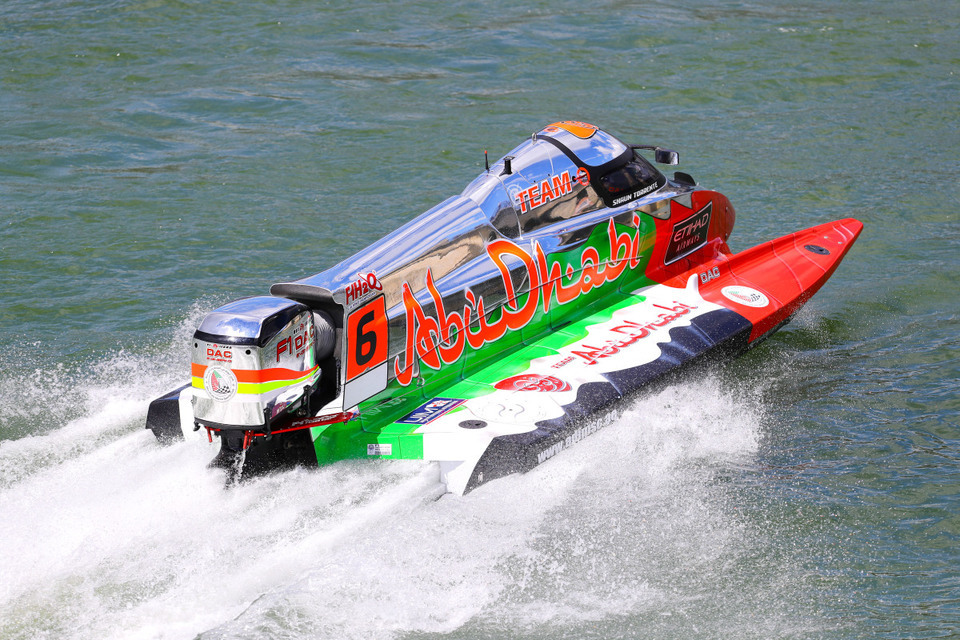 THURSDAY, 15 SEPTEMBER – Two-time UIM F1 H2O World Champion Shaun Torrente, fresh off his victory at the Grand Prix of France in early June, is ending his summer recess and now shifting his focus 100% back at his job at hand, winning another championship!
The world's most exciting racing series on water, heads to San Nazzaro, Italy for a unique 'double-header" starting with the FIM Grand Prix of Regione Emilia Romagna on Saturday, September 24th followed by the FIM Grand Prix of Italy Sunday the 25th on the Po River situated just south of the city of Milan.
"This is my "signature series"- stated Shaun - and I'm really excited about heading to San Nazzaro next week and keeping my podium streak alive at the same time. Now it's all about winning my third title."
Shaun has two wins and three second place finishes in his last six starts and has eight podiums in his last 14 races since London 2018.
"I'm still thinking about how my title washed away from me after starting 10th at the final race of 2021," said the native from Miami. "Knowing that I missed the crown by only a couple of points of making it a "hat-trick" of titles is only making me focus more than ever to return to the top spot in the F1 H2O championship."
Shaun's teammate, veteran driver Thani Al Qemzi, was even closer to winning the title last season after winning at San Nazzaro with Torrente finishing second. The native from Abu Dhabi, is in his 20th season in F1 competition and was the race winner at San Nazzaro last year just in front of Torrente.
Thani has a career total of nine victories and 41 podiums in his 103 race finishes. Overall, he has a better than a one in four chance of reaching the top-three in his 142 career starts.
By finishing second to Torrente in Macon, France, the Abu Dhabi native is just five points behind as they get ready for the back-to-back events on the 24-25 September weekend on the Po River.
"For me the perfect weekend result in Italy would be for Team Abu Dhabi finishing 1-2 at both events with Thani winning one and me winning the other," said Shaun. "We want to keep the good times rolling and this would be the best way to do it. Fingers crossed."
Shaun's record speaks for himself with 10 victories in his 44 career race finishes and at almost a 25% clip. The four-time UIM champion has 40 top-five results in the 44 races he's come across the finish line chasing only his Team Manager Guido Cappellini of Italy who has 60% rate and fellow American Scott Gillman head of Gillman Racing with a 61% rate on the podium for total career race starts.
Both FIM Grand Prix's of the UIM F1 H2O World Championship can be followed live via the official www.f1h2o.com website and Facebook.
Be In The Know – With F1H2O!