December 18, 2022
CHINA CTIC TEAM'S PHILIPPE CHIAPPE SNATCHES POLE FOR SHARJAH'S SEASON FINALE
F1H2O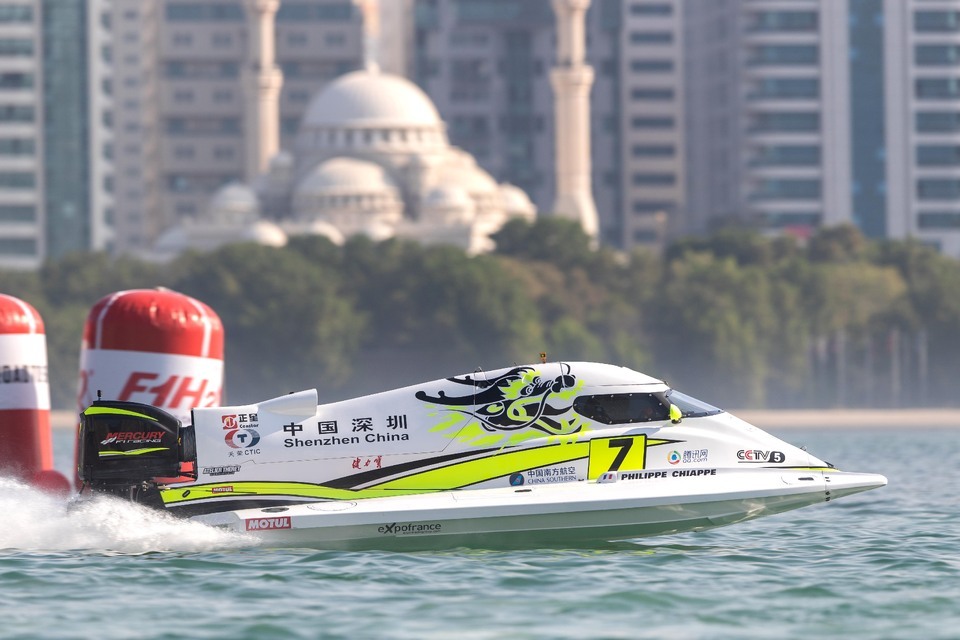 SHARJAH (UAE): Sunday, December 18: On what could well be his last ever Grand Prix, three-time World Champion Philippe Chiappe earned pole position for the Road to Sharjah Grand Prix of the Middle East on Sunday lunchtime.
The China CTIC driver fended off a fierce challenge from World Championship rivals, Jonas Andersson and Shaun Torrente, and the Sharjah Team's Sami Selio to claim the bragging rights and the perfect starting position for the final race of the season in the afternoon.
Chiappe said: "I'm not sure if it was the set-up or me, but I won the pole. The other drivers are very fast but I pushed to the maximum. The course is very technical and very high speed. But I am very happy."
Sweden's veteran and defending World Champion Jonas Andersson finished the session 0.2 seconds behind the Frenchman in second place and will start the 'Sunday Showdown' race ahead of Team Abu Dhabi's Shaun Torrente. The American finished the session in third place and also confirmed victory in the UIM F12H2O Pole Position Trophy for the first time.
Selio came home in fourth, Poland's Bartek Marszalek was fifth and Sharjah Team's Ferdinand Zandbergen qualified in sixth, despite spectacularly crashing out of the Q3 session while holding fifth place.
Thani Al-Qemzi's title chance suffered a major set back when the Emirati missed out on the Q3 session and will start the race from seventh place. That also meant he was not able to challenge Torrente for a first UIM F12H2O Pole Position Trophy.
Six of the 18 boats were eliminated in the 20-minute Q1 session. Chiappe set the best lap of 49.35sec in a session where Selio was second and Andersson left it late to qualify in seventh. Title rivals, Torrente and Al-Qemzi, safely qualified in fourth and sixth. Filip Roms, Cédric Deguisne, Duarte Benavente, Alexandre Bourgeot, Ben Jelf and Paolo Longhi did not make Q2 and qualified in 13th to 18th places, respectively.
A further six boats dropped out in the 15 minutes of Q2. Chiappe carded a target of 49.46sec in the first couple of minutes, only for Al-Qemzi to go quicker with a 49.38sec flier. Selio (49.05sec) then stormed to the top and that time was surpassed by Zandbergen's run of 49.04sec. Chiappe (48.94sec) was then the first driver to break the 49-second barrier and Comparato entered the top six and pushed Andersson down to seventh place with seven minutes remaining.
But the Swede was not to be denied and he stormed through traffic to card a blinding lap of 48.46sec and move to the top of the standings, his run pushing Torrente into seventh place. With four minutes of the session to run, Andersson led from Chiappe and Marszalek, but Torrente held his nerve to post a 48.69sec run to move into second behind Andersson and push Al-Qemzi down to seventh.
The Team Abu Dhabi driver was not able to reach the top six in the closing minutes and will start the race from seventh place, with Alberto Comparato, Peter Morin, Kalle Viippo, Alec Weckström and Marit Strømøy also missing out on Q3 and qualifying in eighth to 12th places.
Ten minutes remained in Q3 and Andersson carded an early time of 47.96sec but that was beaten by Torrente's run of 47.89sec. Marszalek moved into third place at the expense of Selio, Zandbergen and Chiappe heading into the last six minutes. But the yellow flag was raised when Zandbergen spun out spectacularly at turn five and racing ground to a halt while the Dutchman was returned to the pontoon and the boat was moved from the circuit.
Racing resumed with a few extra minutes added on to the clock and Selio moved up to fourth place. But Chiappe picked the perfect time to take a fast lap in clean water and the Frenchman stormed into provisional pole with a run of 47.81sec and three and a half minutes remaining.
The Frenchman ran even quicker with a flier of 47.46sec, as Andersson moved ahead of Torrente with a run of 47.66sec and the American was also displaced by Selio (47.87sec) with a little over a minute to run. Torrente managed to regain third place but was not able to get in front of Chiappe and Andersson as time ran out.
The Road to Sharjah Grand Prix of the Middle East starts at 15.00hrs (UAE time).
2022 Road to Sharjah Grand Prix of the Middle East – qualifying result:
Q3
1. Phillipe Chiappe (FRA) China CTIC Team 47.46sec
2. Jonas Andersson (SWE) Team Sweden 47.66sec
3. Shaun Torrente (USA) Team Abu Dhabi 47.73sec
4. Sami Selio (FIN) Sharjah Team 47.87sec
5. Bartek Marszalek (POL) Strømøy Racing F1H2O Team 48.18sec
6. Ferdinand Zandbergen (NLD) Sharjah Team 48.35sec


Q2
7. Thani Al-Qemzi (UAE) Team Abu Dhabi 49.14sec
8. Alberto Comparato (ITA) Comparato F1 49.17sec
9. Peter Morin (FRA) China CTIC Team 49.75sec
10. Kalle Viippo (FIN) Team Sweden 49.77sec
11. Alec Weckström (FIN) Gillman Racing 50.35sec
12. Marit Strømøy (NOR) Strømøy Racing F1H2O Team 51.01sec
Q1
13. Filip Roms (FIN) Gillman Racing 51.94sec
14. Cédric Deguisne (FRA) Maverick Racing 52.55sec
15. Duarte Benavente (POR) F1 Atlantic Team 52.65sec
16. Alexandre Bourgeot (FRA) Maverick Racing 54.93sec
17. Ben Jelf (GBR) F1 Atlantic Team 55.14sec
18. Paulo Longhi (ITA) Comparato F1 56.74sec