December 14, 2017
TEAM ABU DHABI'S ALEX CARELLA TAKES STUNNING POLE IN SHARJAH
F1H2O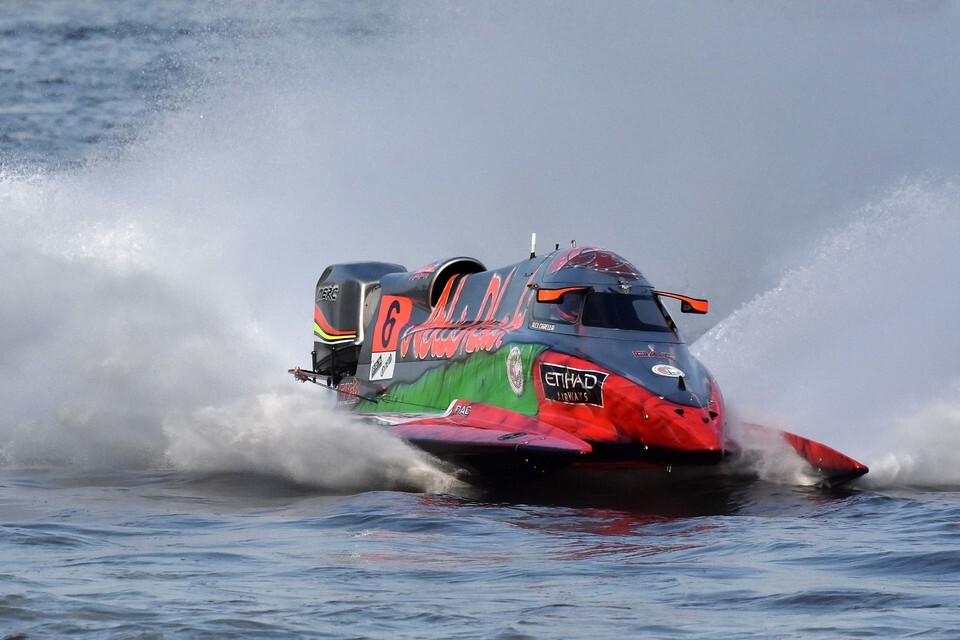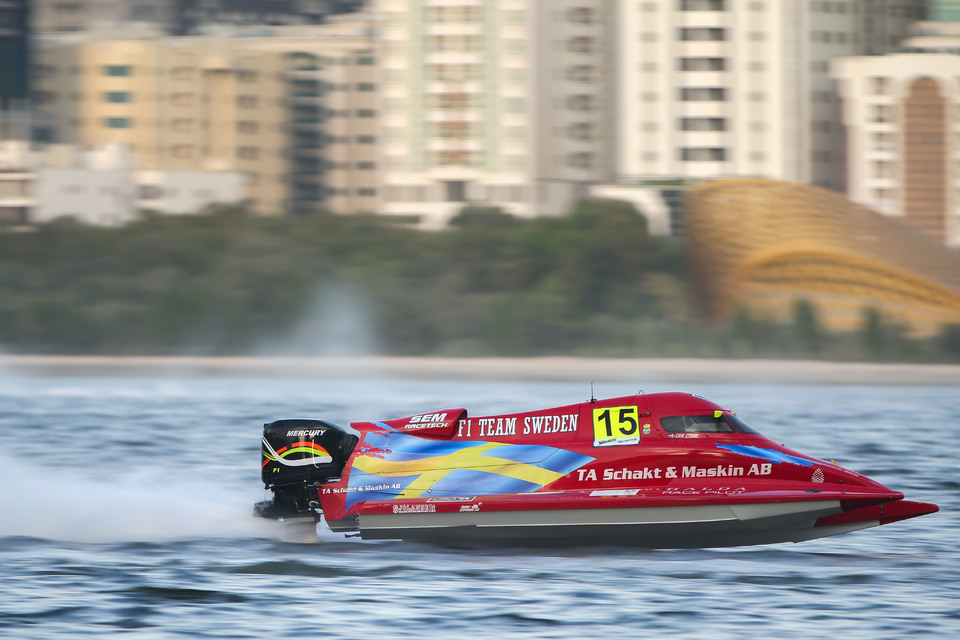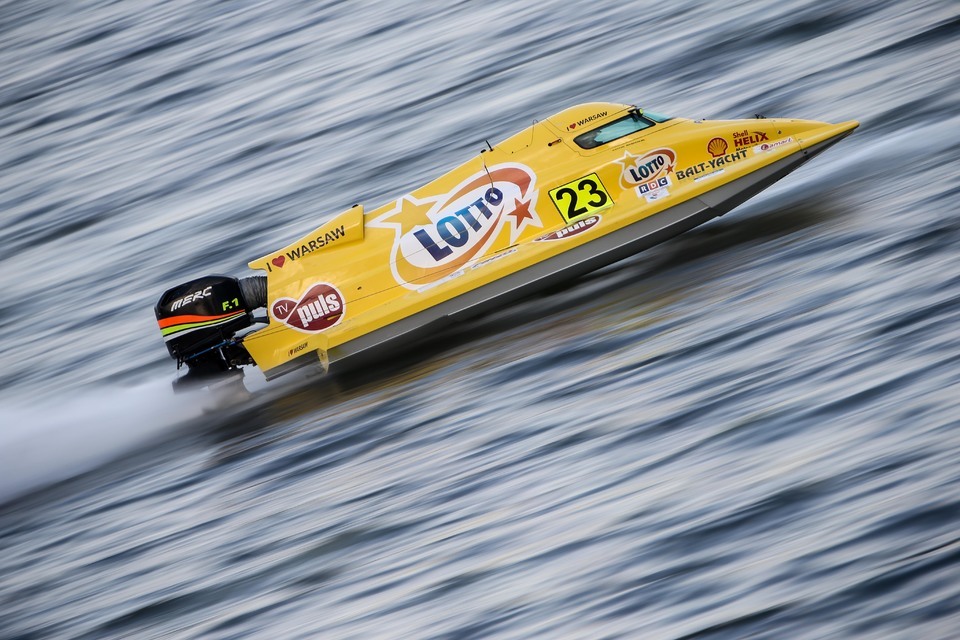 Thursday, 14 December, SHARJAH (UAE): Team Abu Dhabi's Alex Carella produced a stunning final lap in today's BRM Qualifying and will start tomorrow's UIM F1H2O Grand Prix of Sharjah from pole position.
Carella was the last to go in a thrilling final session top six shoot-out and sealed his 15th career pole which could well prove to be one of the most significant, with title rival Philippe Chiappe starting from P5.
It was a lap run under extreme pressure and having failed on his first lap delivered the ultimate lap to snatch pole position from Sweden's Erik Stark with a 45.01s final run. "I wanted everything today and I gave it everything," said Carella. "In Abu Dhabi I calculate too much, here I didn't I just wanted to win it, end of the story. It was a really good battle today. In that second lap I didn't even feel the boat under my body. I just wanted that win."
Victory's Ahmed Al Hameli was the first out and laid down an impressive marker, posting his best time of 45.87s on his first run which Sweden's Jonas Anderrson and Carella's title rival Philippe Chiappe both failed to beat.
Next out was Poland's Bartek Marszalek, starting in the shoot-out for just the second time in his career and coming into the afternoon session after topping the time sheets in this morning's practice. He aborted his first run and then laid down a blistering 45.75s lap to take the provisional pole. "I am very happy with that especially because I know where I can improve. I think this is just the beginning," said Marszalek after producing his best ever performance in qualifying. "I pulled out of my first run because the fuel was low and wasn't getting through on the left-handers and the engine dropped RPM. Tomorrow I am looking forward to enjoying the race. I don't feel any pressure I will just do my best."
Stark, who set the pole in Sharjah in 2015, followed him out and needed just one flying run to go top with a 45.27s lap, but then watched anxiously as Carella went out and snatched the pole away from him on his second run. "I am really happy. The lap Alex put down was incredible. Hats off to him he is an amazing driver. I think this lap was the maximum I could do," Stark said. "Tomorrow we will push but of course I am not going to compromise Alex's race, especially at the start."
It was an afternoon of complete dominance by Carella who left it late in Q1 before jumping up from tenth to the top of the time sheets ahead of Marszalek and Shaun Torrente. Finland's Sami Selio was the big casualty in the first session missing the cut by one place in 13th, ahead of F1H2O rookie Erik Edin.
Carella was again the quickest in Q2 and again Marszalek was the man behind him with Stark third, the surprise exits from the 15 minute session, Marit Stromoy in seventh and Shaun Torrente down in ninth.
Tomorrow Abu Dhabi's Alex Carella goes for his fourth world title. He has an 11 point advantage over Philippe Chiappe and starts from pole position with Erik Stark, Bartek Marszalek and Ahmed Al Hameli between him and his title rival.
The last time Alex Carella started from pole position in Sharjah was in 2013. He went on to win the race!
BRM QUALIFYING – Top Six Shoot-Out:
1. A Carella (ita/uae*) – 45.01s
2. E Stark (swe) – 45.27s
3. B Marszalek (pol) – 45.75 s
4. A Al Hameli (uae) – 45.87s
5. P Chiappe (fra) – 46.13s
6. J Andersson (swe) – 46.15s
[the UIM F1H2O Grand Prix of Sharjah at 1600hrs [local]/1200hrs [UCT] on Friday 15 December will be streamed live on f1h2o.com]