July 1, 2018
SUPER STARK WINS GRAND PRIX OF FRANCE – TEAM ABU DHABI RULE THE WAVES ON LAC LEMAN
F1H2O
*Thani Al Qamzi and Shaun Torrente complete sensational Abu Dhabi 1-2-3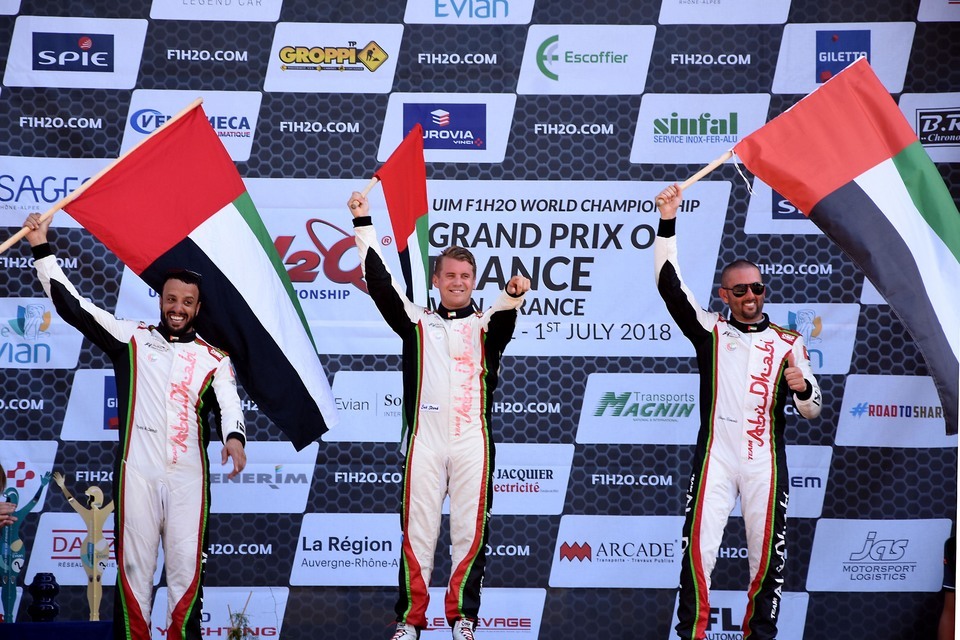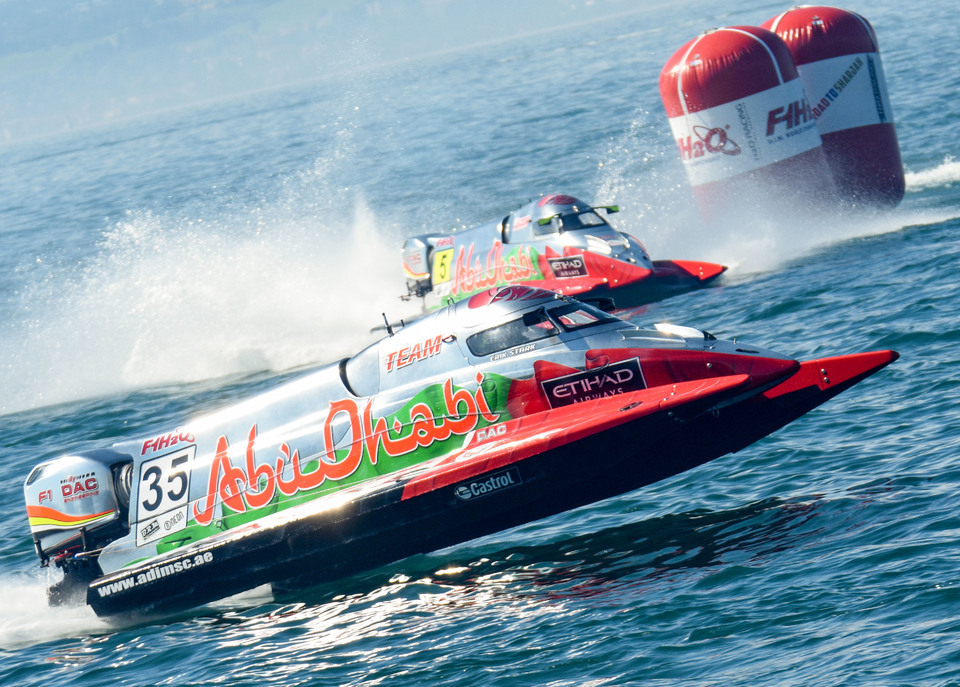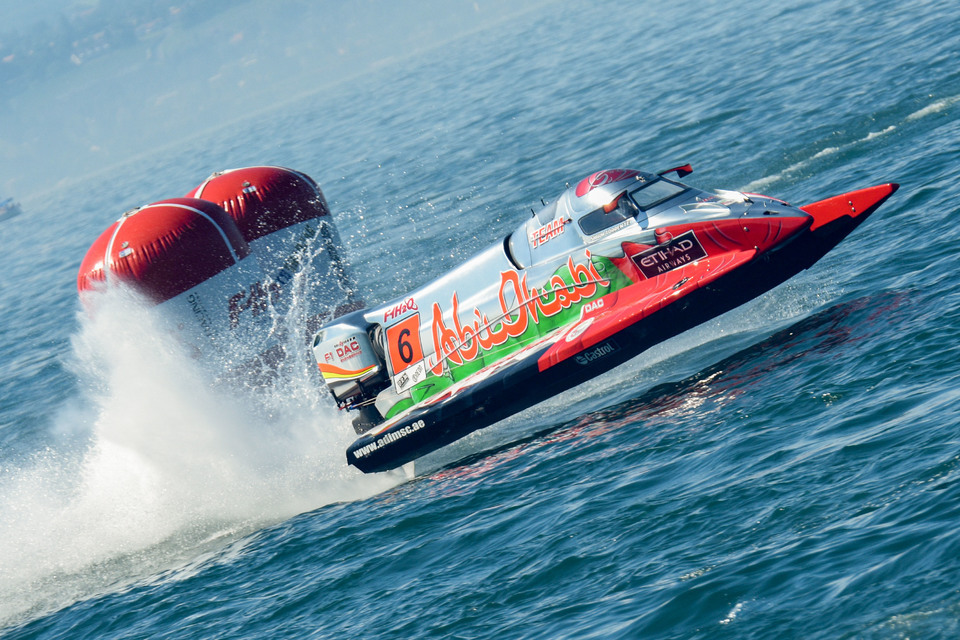 Sunday, 1 July, EVIAN (France): Erik Stark produced yet another outstanding drive to take a hard-earned and spectacular victory in a dramatic UIM F1H2O Grand Prix of France, leading home Thani Al Qemzi and Shaun Torrente to complete a sensational Team Abu Dhabi one-two-three on Lac Leman.
For the second successive Grand Prix Stark started from pole and again had to survive two yellow flag incidents and restarts, the first coming on lap 8 when Mad Croc BABA Racing's Filip Roms crashed out from 13th place, compounding a bad weekend for the team with Sami Selio retiring on lap 7.
The second yellow flag was raised on lap 23 when defending champion Alex Carella crashed heavily, the boats held under caution for eight laps whilst the Victory driver was attended to in the boat and taken to the medical evacuation point.
Philippe Chiappe's hopes of becoming the first Frenchman to win his home Grand Prix ended on lap 5 when his Evian jinx struck for the fourth consecutive year, the CTIC F1 Shenzhen China driver forced back to the pits to change a broken propeller before returning to the race and finishing 3 laps adrift in 15th.
Stark took control of the race from lights out and despite the early pressure from teammate Al Qemzi held point to the first yellow flag, Francesco Cantando running strongly in third with Shaun Torrente up three places in fourth and ahead of Peter Morin and Erik Edin.
The front four raced line astern from the restart for the next 13 laps when Carella went over and out from running in ninth, Edin moving up a place with Morin dropping back and passed by Ahmed Al Hameli, with Jonas Andersson on a charge and up from 18th off the dock into eighth place.
The second restart saw Torrente and Edin pass Cantando with the Team Abu Dhabi trio racing line astern to the chequered flag, with Stark winning by 2.38s. "To be honest it was a very hard race. It was just impossible to run safe, you just couldn't see the waves when they came and if you slowed down you hit them all so you had to run full speed to try to go over them," said Stark, his second win of the season moving him into the lead in the world championship standings ahead of his two teammates. "It's amazing for the team, a one two three, what more can you ask for."
Today's result also sees Abu Dhabi move back to top of the Teams World Championship and open up a 26 point lead over CTIC F1 Shenzhen China.
Erik Edin continued his impressive run and upturn in form this season with his best ever result finishing in fourth, teammate Jonas Andersson driving from the back of the pack of 18 to finish in sixth and complete a good weekend for Team Sweden with Peter Morin again producing a strong performance coming home in fifth place for CTIC China.
Emirates Racing's Marit Stromoy and Bartek Marszalek both dropped places at the start and traded places with each other over the 42 laps, Stromoy recovering from being down in 12th place at one point but fighting her way back and passing her teammate on lap 32 to finish in seventh, Victory's Ahmed Al Hameli coming home in ninth, Maverick F1 Racing's Cedric Deguisne rounding out the top ten.
For full race classifications and results:
https://www.f1h2o.com/results/2018/grand-prix-of-france/f1h2o
For overall championship standings:
https://www.f1h2o.com/standings/2018/f1h2o