December 15, 2018
STROMOY TOPS TIME SHEETS IN PRACTICE
F1H2O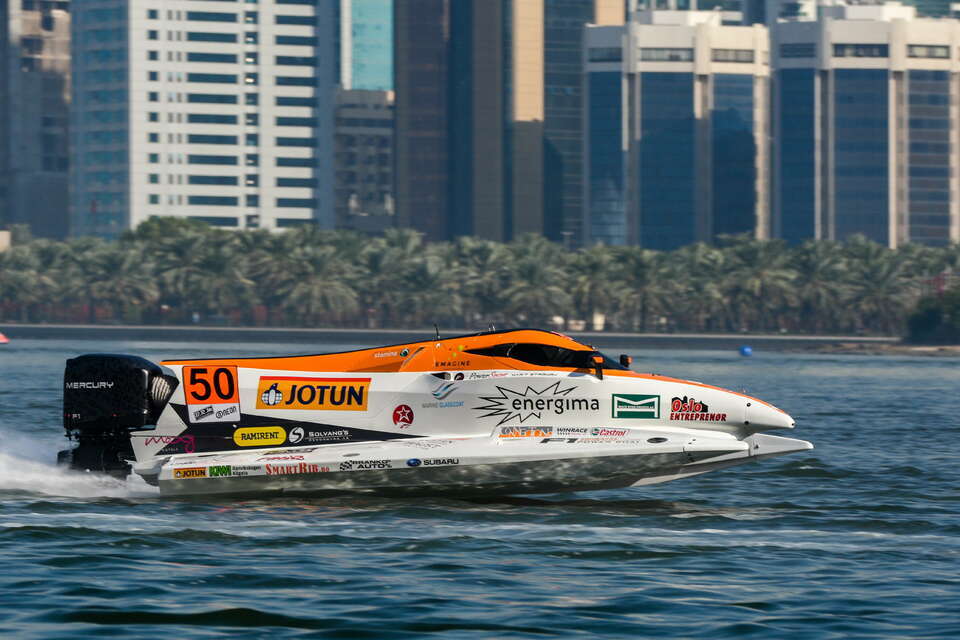 Saturday, 15 December, SHARJAH (UAE): Emirates Racing's Marit Stromoy topped the times sheets in this morning's final practice session ahead of this afternnon's UIM F1H2O Grand Prix of Sharjah, arguably one of the most eagerly anticipated races and title deciders for many seasons.
After an engine change and down on pace in qualifying on Thursday Stromoy jumped to the top of the time sheets in the latter stages of the session with a 46.70s lap, with Victory's Alex Carella edged into second spot by 0.2s and Mad Croc's Sami Selio in fourth with 46.96.
Thani Al Qemzi was the quickest of the Abu Dhabi trio and title rivals, running just 2 laps and third quickest with a time of 46.96s, Erik Stark and Shaun Torrente in fifth and sixth.
Twelve points separate the title rivals, Torrente on 77, Al Qemzi on 74 with Stark facing the toughest task on 65 points. But it is Stark who has pole with Al Qemzi starting in P6. Torrente starts in P7 and will have to go the long way round at the start with the introduction of a demarcation buoy for those sitting P7 to 17 the top six going to the commitment buoy.
Between Al Qemzi and Torente is a wealth of talent and experience the duo will have to get past, Carella, Peter Morin, Sami Selio and Jonas Andersson between them and teammate Stark.
Practice:
1 Marit Stromoy (nor) – 46.70s
2 Alex Carella (ita/*uae) – 46.72s
3 Thani Al Qemzi (uae) – 46.78s
4 Sami Selio (fin) – 46.96s
5 Erik Stark (swe/*uae) – 47.19s
6 Shaun Torrente (usa/*uae) - 47.49s
For results/championship standings:
https://www.f1h2o.com/results/2018/grand-prix-of-sharjah/f1h2o