December 21, 2019
STAGE SET FOR SHARJAH SUPER SATURDAY
F1H2O
*Stromoy quickest in practice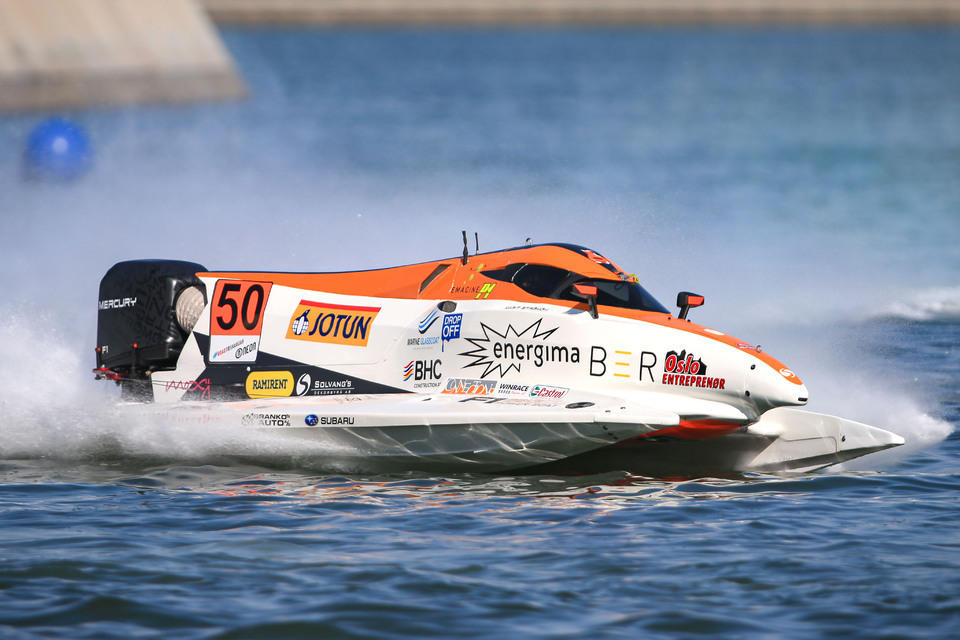 Friday, 20 December, SHARJAH (UAE): Emirates Racing's Marit Stromoy set the pace in today's final practice of the season as she bids for her highest overall season finish and the remaining available step on the year-end championship podium.
Stromoy ran 30 laps in in the 60 minute session with a best time of 46.53s around the 2057metre Khalid Lagoon circuit.
Sharjah Team's Sami Selio pressed and got to within 0.13s with Alex Carella's camp sorting his engine issue, the Maverick F1 driver going third quickest with 46.71.
The final race of the season will be 45 laps and all eyes will be on defending champion Shaun Torrente who starts in P5 with a five point advantage and Jonas Andersson who has pole position. Neither was pushing in the session, Torrente in eighth, Andersson in 14th.
The Title points' permutations are many: Torrente wins if he finishes ahead of Andersson or finishes second if Andersson wins.
If Andersson finishes 1st, 2nd, 3rd, 4th, 5th and Torrente in 3rd, 4th, 6th, 8th, 10th [respectively] Andersson wins the title.
Torrente will have his work cut out if he is to get within striking distance of Andersson, on his inside and between him and his rival is Abu Dhabi Teammate Thani Al Qemzi, Victory's Erik Stark and CTIC F1's Philippe Chiappe.
For final classifications:
https://www.f1h2o.com/standings/2019/f1h2o
https://www.f1h2o.com/results/2019/grand-prix-of-sharjah/f1h2o