February 26, 2023
POLAND'S BARTEK MARSZALEK WINS HIS FIRST EVER RACE FROM POLE POSITION IN INDONESIA
F1H2O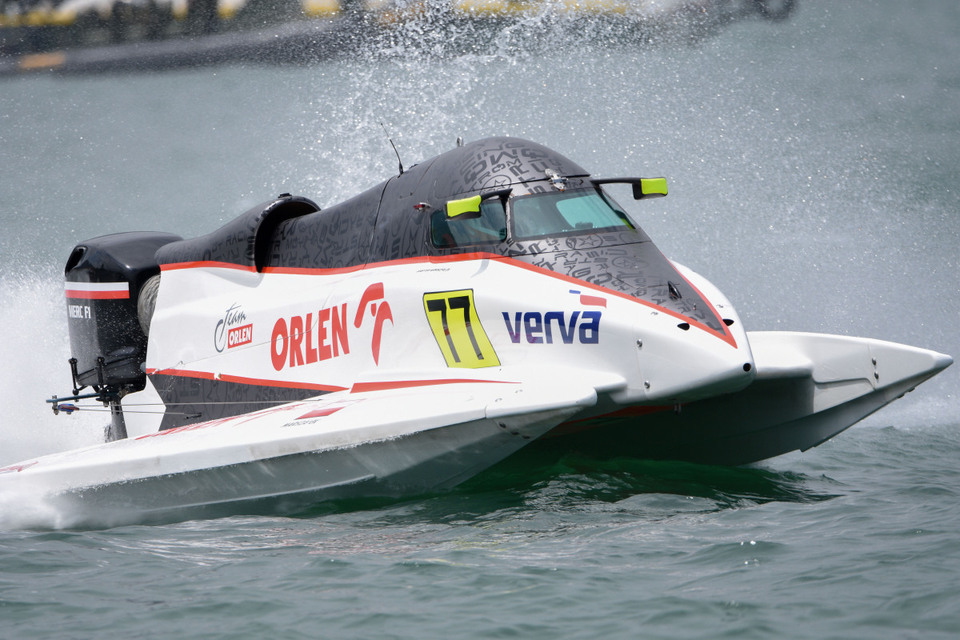 Sunday, February 26: The Strømøy Racing F1H2O Team's Bartek Marszalek followed up his first ever pole position by securing victory in his first ever race, when he led Kopiko Grand Prix of Indonesia race one from start-to-finish on Lake Toba on Sunday lunchtime.
Team Abu Dhabi's Shaun Torrente missed out on pole position after his fastest lap was disqualified in the morning's BRM Qualifying session and the American looked set to make amends by snatching a last-gasp victory. The defending World Champion trailed Marszalek until the last few tours of the 18-lap sprint race and, when the action resumed after a late yellow flag, Torrente managed to pass the Pole but was deemed to have made a jump start and was later handed a one-lap penalty that dropped him to 10th position.
A delighted Marszalek said: "What a fantastic feeling to win the race. I really enjoyed it. The weather was perfect this morning for qualifying and we had a lot of spectators around the shore. So many smiles give me extra horse power. I feel very good in the boat."
The Sharjah Team's Sami Seliö finished second overall and the Victory Team's returning Erik Stark rounded off the podium places.
When Jonas Andersson dropped back with technical issues over the last couple of laps to finish ninth, China CTIC Team's Peter Morin and Torrente's team-mate Thani Al-Qamzi stormed through to claim fourth and fifth positions. Stark's Victory Team colleague Ahmed Al-Fahim was sixth.
Kopiko Grand Prix of Indonesia – Race 1
Shaun Torrente's fastest BRM qualifying lap of 57.58sec was later cancelled out, a maiden pole position was handed to Bartek Marszalek for his 50th Grand Prix start and the Pole started the 18-lap race well and began to pull clear of Torrente. Seliö, Stark, Andersson and Morin rounded off the top six in the early stages of the race. Gillman Racing's Alec Weckström did not start and Brock Cohen dropped out after just one lap.
Marit Strømøy of the Strømøy Racing F1H2O Team retired on lap eight but Marszalek led by 3.29 seconds at the halfway point, with Seliö retaining a distant third. Ben Jelf joined the list of retirements a lap later.
The yellow flag was raised with four laps of the first sprint race remaining when Dutchman Ferdinand Zandbergen flipped his Sharjah Team boat.
Racing resumed with two laps to go and Marszalek needed to fend off Torrente to maintain his advantage. The American pushed hard and managed to sneak passed the Pole and snatch the lead and held on to the chequered flag to seal the win. As Andersson dropped back to 10th with late technical issues, Thani Al-Qamzi stormed through to snatch sixth place although the start was under investigation by race officials for a potential jump start by the race winner and the American was later given a one-lap penalty and dropped back to 10th.
2023 Kopiko Grand Prix of Indonesia – race 1 result:
1. Bartek Marszalek (POL) Strømøy Racing F1H2O Team - 18 laps
2. Sami Seliö (FIN) Sharjah Team - @ 1.97sec
3. Erik Stark (SWE) Victory Team - @ 3.26sec
4. Peter Morin (FRA) China CTIC Team - @ 4.18sec
5. Thani Al-Qamzi (UAE) Team Abu Dhabi - @ 5.87sec
6. Ahmed Al-Fahim (UAE) Victory Team - @ 7.67sec
7. Brent Dillard (USA) China CTIC Team - @ 10.18sec
8. Filip Roms (FIN) Gillman Racing - @ 12.09sec
9. Jonas Andersson (SWE) Team Sweden - @ 13.66sec
10. Shaun Torrente (USA) Team Abu Dhabi - 1 lap behind
11. Alexandre Bourgeot (FRA) Maverick Racing - 1 lap behind
12. Alberto Comparato (ITA) Comparato F1 - 1 lap behind
13. Cédric Deguisne (FRA) Maverick Racing - 1 lap behind
14. Kalle Viippo (FIN) Team Sweden - 1 lap behind
15. Duarte Benavente (POR) F1 Atlantic Team - 1 lap behind
16. Ferdinand Zandbergen (NLD) Sharjah Team - DNF
17. Ben Jelf (GBR) F1 Atlantic Team - DNF
18. Marit Strømøy (NOR) Strømøy Racing F1H2O Team - DNF
19. Brock Cohen (AUS) Comparato F1 - DNF
20. Alec Weckström (FIN) Gillman Racing - DNS
2023 UIM F1H2O World Championship – positions after race 1:
1. Bartek Marszalek (POL) Strømøy Racing F1H2O Team - 20pts
2. Sami Seliö (FIN) Sharjah Team - 15pts
3. Erik Stark (SWE) Victory Team - 12pts
4. Peter Morin (FRA) China CTIC Team - 9pts
5. Thani Al-Qamzi (UAE) Team Abu Dhabi - 7pts
6. Ahmed Al-Fahim (UAE) Victory Team - 5pts
7. Brent Dillard (USA) China CTIC Team - 4pts
8. Filip Roms (FIN) Gillman Racing - 3pts
9. Jonas Andersson (SWE) Team Sweden - 2pts
10. Shaun Torrente (USA) Team Abu Dhabi - 1pt