July 29, 2016
NEW LOOK CIRCUIT IN PORTIMAO HAS DRIVERS READY TO ROCK!
F1H2O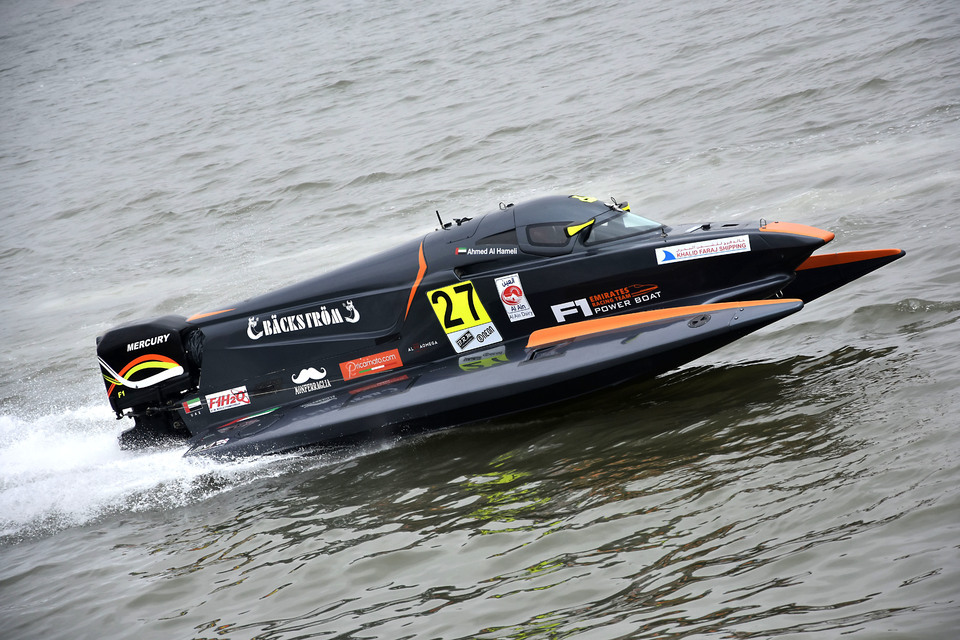 Friday, 29 July, PORTIMAO (Portugal): Nineteen drivers from 11 countries took time this afternoon to take advantage of an extra free-practice session trying to learn the fast way around the newly modified 1.9 kilometer (1.2 mile) race circuit on the Arade River in preparation for Saturday's B.R.M. Qualifying session leading up to Sunday's 15th Grand Prix of Portugal along the inner harbor in the center of Portimao.
The third round of the 2016 UIM F1H2O World Championship marks the fourteenth time the race has come to the lovely city along the Algarve coastline with three of the six previous winners in the field of drivers hoping to reach the "top of the box" in tomorrow's B.R.M. Official qualifying and in the Grand Prix on Sunday.
With no official times being recorded Shaun Torrente of the Victory Team along with Alex Carella of Team Abu Dhabi and Philippe Chiappe of the CTIC China Team were the expected fast runners early in the one hour session as most teams were working on boat set-up and race and qualifying propeller combinations as well.
"For me it was a tricky circuit," said two-time winner Ahmed Al Hameli of the Emirates Team. "The wind was a real factor today coming out of the west and between the buildings it was like a large fan trying to blow you over. We'll see how it plays out tomorrow."
"You are running almost flat out from the north end near the bridge all the way down the front straightaway until turn one. It's going to be exciting as you crab the boat a bit sideways to keep the speed up without setting. Tomorrow's qualifying will be something to watch, believe me." commented Shaun Torrente
Thousands are expected around the race circuit along the Arade River with the tour coming to Portimao for the first time during the prime holiday season with the city filled with tourists from throughout Europe.
The one-hour B.R.M. Qualifying starts at 13:00 local (12:00 UTC) and 08:00 EDT on the East Coast of North America. The full hour can be followed by going to the official website of the UIM F1H2O World Championship tour at HYPERLINK "http://www.f1h2o.com/"www.f1h2o.com. The international television feed will be available on the website as well.