February 17, 2023
H2O RACING AGREES GROUND-BREAKING BROADCAST PARTNERSHIP WITH WARNER BROS. DISCOVERY
F1H2O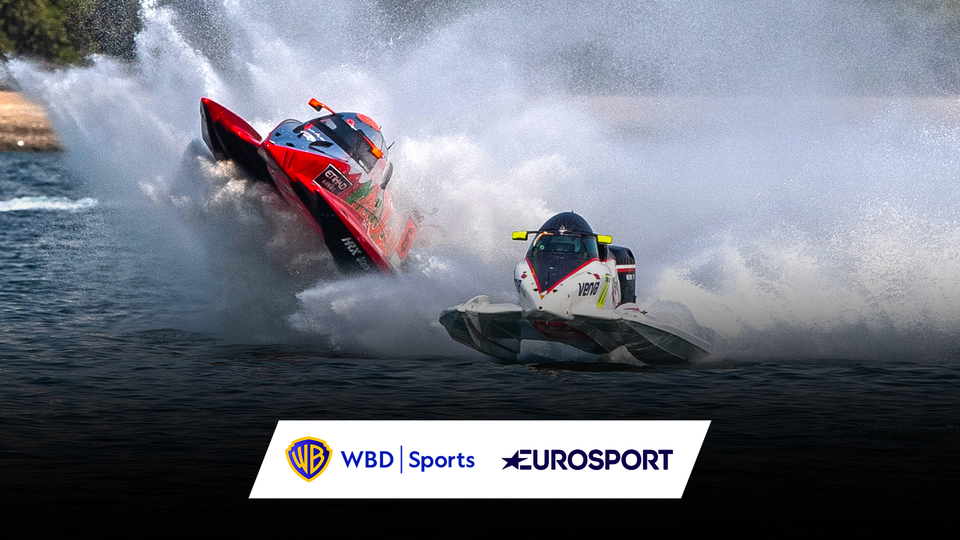 Friday, February 17th: H2O Racing has signed a ground-breaking agreement with Warner Bros. Discovery (WBD) to broadcast live action and highlights of the 2023 UIM F1H2O World Championship across Europe and Asia through television coverage on Eurosport and streaming on discovery+* and the Eurosport App.
The broadcast partnership has been signed for an initial five-year term, with the season opener live from Indonesia on 26 February, and includes live racing action, a season preview and review and a highlight magazine programme. This should catapult live action and the spectacle of modern powerboat racing into millions of homes and bring a far wider audience to the pinnacle of the sport.
H2O Racing founder Nicolò di San Germano said: "This new agreement is very exciting and is a major boost to our media coverage. It gives us extra reach to a large number of keen racing fans across Europe, where many of our competitors reside, and, of course, increases our reach in Asia. Eurosport is very strong in the region and is seen as the go-to channel for sports like MotoGP, Grand Slam tennis tournaments, the Olympic Games, winter sports and snooker."
Trojan Paillot, Vice President, Sports Rights Acquisitions and Syndication at Warner Bros. Discovery Sports, said: "We continue to support the growth of the widest variety of sports by harnessing our unparalleled international scale to reach new audiences. Through our new collaboration with H2O Racing, we are pleased to further expand our live sports offering for millions of viewers."
Warner Bros. Discovery Sports collectively engages 130 million sports fans across its brands, channels and platforms in Europe alone in 20 languages every month, offering the widest range of live sports action for its viewers.
The full calendar of events includes for the 2023 F1H2O World Championship includes:
F1H2O World Championship:
25/26 February Indonesia

29/30 April China

1/2 July France

8/9 July or 1/3 September Italy

30 Sept/1 Oct Sardinia (Italy)

4/5 November Asia

11/12 Nov or 18/19 Nov Asia

16/17 December UAE
Notes to editor
*Eurosport is available through discovery+ in Austria, Denmark, Finland, Germany, Italy, the Netherlands, Norway, Sweden, United Kingdom and Ireland.
About F1H2O World Championship
The UIM F1H2O World Championship is the flagship international series of single-seater inshore circuit powerboat racing organised by promotor H2O Racing in collaboration with the Monaco-based Union Internationale Motonautique (U.I.M.), the world governing body of powerboat racing.
The series attracts up to 10 teams and 20 of the world's leading drivers and stages events across the world. The tunnel-hull catamarans have exceptional handing capabilities and can enter hairpin turns at over 144km/h and top 225km/h on the straights.
Grand Prix are usually staged over three days with free practice taking place on day one, followed by further practice and qualifying on day two and a third practice session and the race itself on day three.
About Warner Bros
Discovery Sports Europe?Warner Bros. Discovery Sports Europe represents WBD's portfolio of sports brands, channels and platforms in Europe. It collectively reaches 130 million people every month, engaging fans and broad audiences in more than 200 markets and in over 20 languages across all platforms where consumers are spending time, free-to-air TV, pay-TV, streaming, online and social. Warner Bros. Discovery Sports Europe includes the much-loved consumer brands Eurosport, Global Cycling Network (GCN), Global Mountain Bike Network (GMBN) and Golf Digest, as well sports programming and content on discovery+ and Warner Bros. Discovery's free-to-air TV networks. They connect audiences with the greatest sporting events in the world. This includes being the Home of the Olympics Games in Europe; tennis' Grand Slams; cycling's Grand Tours, more than 600 cycling broadcasts per year, the UCI Track Champions League, the UCI Mountain Bike World Cup from 2023 with ESO Sports; the PGA TOUR year-round; The Ocean Race from 2023; the Snooker World Tour; the best electric racing series with ABB FIA Formula E World Championship and FIA eTouring Car World Cup; the FIM Speedway GP, Speedway of Nations and Speedway World Cup; and every major winter sports World Championship and World Cup event. Warner Bros. Discovery Sports Europe completes a full 360° offer with its events management and promotion division, Discovery Sports Events, which oversees 55 events across 5 continents each year.??In September 2022, Warner Bros. Discovery and BT Group completed their transaction to form a 50:50 Joint Venture (JV) that combines the assets of BT Sport and Eurosport UK. The move brings together one of the most extensive line-ups of live sport coverage for fans in the UK & Ireland – including the Olympic Games, the Premier League, UEFA Champions League, UEFA Europa League, the Premier League, Premiership Rugby, MotoGP, UFC, Boxing, WWE, tennis Grand Slams, cycling Grand Tours and the winter sports World Cup season.