March 28, 2023
CHINESE OFFICIALS ANNOUNCE NEXT ROUND OF UIM F1H2O SERIES IN ZHENGZHOU
F1H2O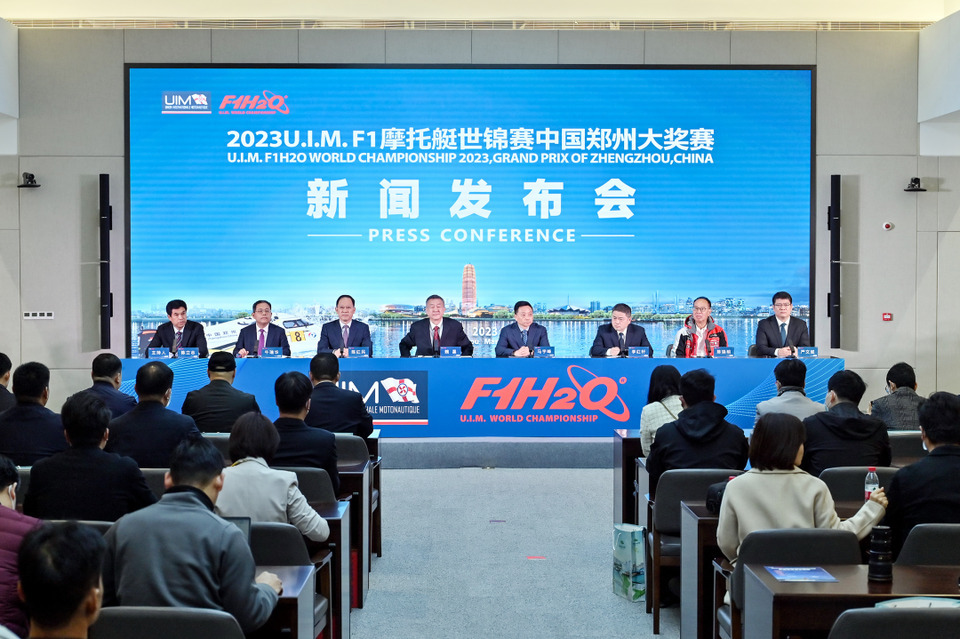 Tuesday, March 28: Local government officials and organisers of the second round of the 2023 UIM F1H2O World Championship staged a press conference on Sunday (March 26th) to announce initial details of the Grand Prix of Zhengzhou, China. The race takes place on April 28th-30th and is being organised by H2O Racing, in conjunction with the China Motorboat Association (CMA) and local race officials in the Henan Province.
The press conference was held at the local Central Plain Science and Technology Centre and was attended by a group of senior Chinese officials.
They included Wei Xing, the general director of the state's aquatic sports, Ma Yufeng, deputy director of sport for the Henan Province, Chen Hongmin, deputy mayor of the People's Government of Zhengzhou, Li Hongxuan, the director of sport for the city of Zhengzhou, Niu Ruihua, deputy secretary of Zhengdong's new regional working party committee, the director of the administration committee for the Zhengzhou Central Plain Science and Technology City and the president of the construction society for the city of Zhengdong. In addition, Yan Wenbin, leader of F! China Tianrong and Chen Huanming, vice-president of Shenzhen Tianrong Cultural Management Limited, were present. Eric Chan, team manager of the China CTIC Team and vice-president of Shenzhen Tianrong Sports and Cultural Management Limited was also in attendance.
Chen Lizhi, deputy secretary-general of the local government of Zhengzhou, hosted the press conference, where general details about the sport, the race itself and the local race location were given to the local media.
Construction in the Zhengdong New District (New Area), where the race will be staged, began in January 2003 and, over the next two decades, has been rapidly transformed into an impressive regional development zone of over 120 square kilometres that has a population of 1.3 million people. The area is already home to 78 international companies, 97 national businesses and over 400 institutions. It consists of the core CBD area, Longhu area (dragon lake) and Longzihu (Longzi lake) college district.
It now spans from Zhongzhou Avenue to the west, to Wansan Highway to the east and to the north are the southern banks of the Yellow River.