December 9, 2016
ANDERSSON WINS DRAMA-FILLED GRAND PRIX OF ABU DHABI
F1H2O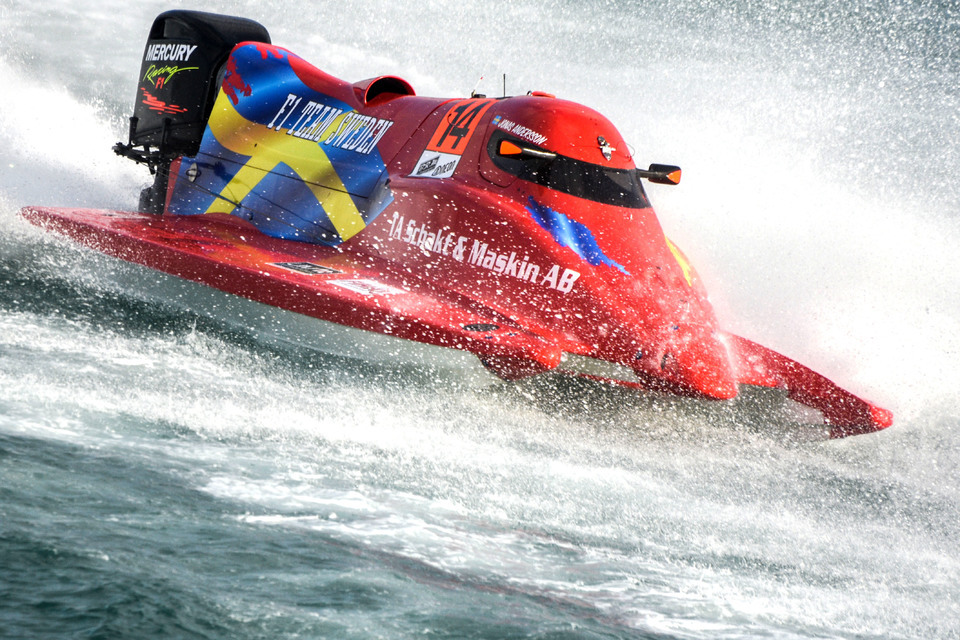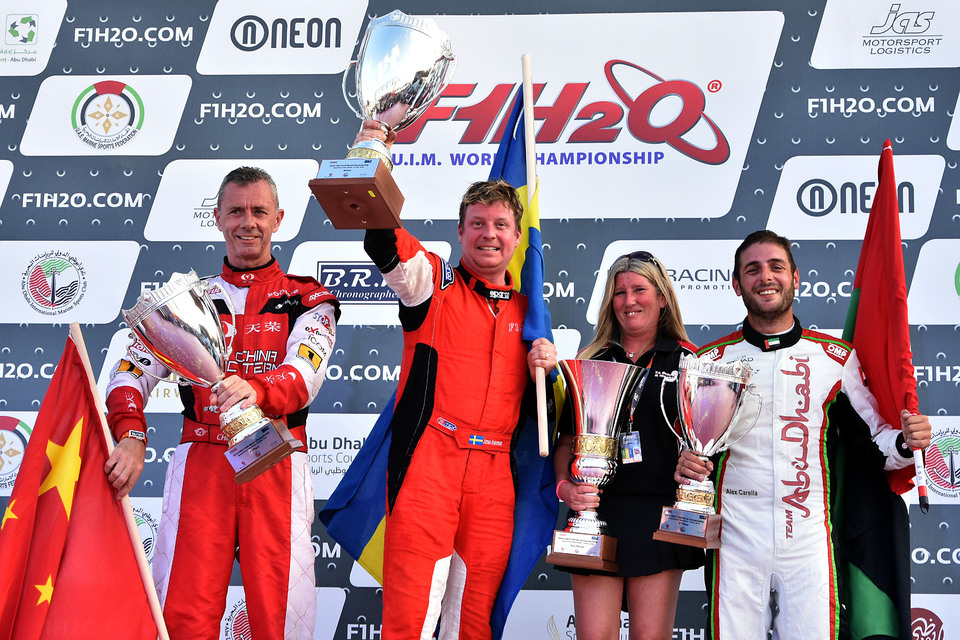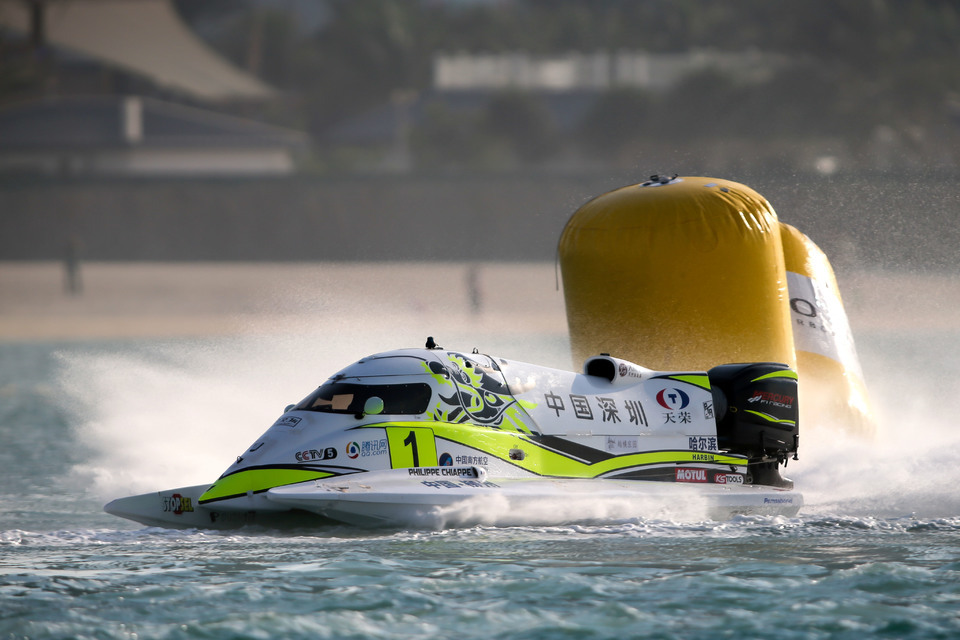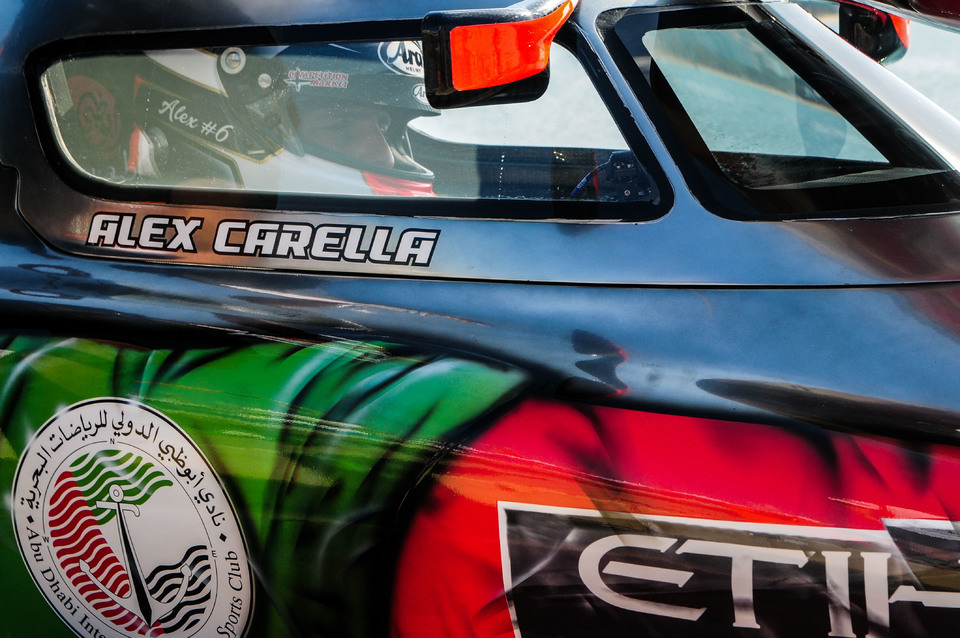 Friday, 9 December, ABU DHABI (UAE); Team Sweden's Jonas Andersson held his nerve and led from start-to-finish to win today's incident-filled UIM F1H2O Grand Prix of Abu Dhabi, which saw three boats crash out and three yellow flags raised within 14 dramatic laps. "Incredible just incredible," said Andersson after taking his first win since 2009. "The restarts were very difficult to manage and after 10 laps I had problems with the engine which was dying in the corners and I thought now they must come at me. But for once I am lucky and to be back winning again is great."
Second place went to championship leader Philippe Chiappe who moved to within one point of clinching a third consecutive world title when the championship heads north to Sharjah on 14-16 December for the final round of the year. "Today was important to finish, get points and not to take any risks," said Chiappe. "It was not easy today with the conditions, the wind especially and all the crashes and restarts. But I think it is good for the championship to be decided at the last race."
Team Abu Dhabi's Alex Carella took a highly emotional third place on a very difficult day for the Italian driver whose father passed away yesterday, with a last ditch move on Victory's Shaun Torrente as the duo crossed the finishing line. "It was a crazy race on a very difficult day in my life," he said. "I wanted the podium for my Dad for sure and I get it on the last metre of the race. I am really happy, for me and for my family. It is a very special moment."
Torrente's fourth place means that of the four drivers still in with a shot to challenge for the title before today's race, he is now the last man standing who can take it away from Chiappe.
Team Sweden's Andersson took full advantage of starting from pole position and had moved into a comfortable lead over Chiappe, with Erik Stark ahead of Torrente , Ahmed Al Hameli and Alex Carella, when the first yellow flag was raised on lap 9 after Chiappe's CTIC F1 Shenzhen China teammate Xiong Ziwei barrel-rolled out of the race.
The boats were held for four laps before the green flag was shown, but a second yellow followed almost immediately with another dramatic crash and the exit of Emirates Racing's Al Hameli who was running in fifth place.
The third incident of the afternoon took place within two laps of the third restart with Team Sweden's Jesper Forss flipping spectacularly on the start-finish straight, Abu Dhabi proving an unlucky venue for the young Swede.
From the final restart on lap 22 the remainder of the 45-lap race was incident free with Andersson controlling proceedings from the front with Chiappe maintaining second spot ahead of Torrente until Carella stole the place on the line at the chequered flag.
Behind the lead quartet Stark held off a persistent challenge from Mad Croc BABA Racing's Sami Selio, who from 18th of the pontoon at the start was now up to sixth, his efforts rewarded with a successful pass on lap 40, with Stark then retiring.
Team EMIC's Marit Stromoy enjoyed her best result of the year, moving up from eighth place at the start to finish in sixth, with Selio's teammate Filip Roms seventh.
Portugal's Duarte Benavente maintained his 100 per cent points scoring run this year to take eighth place, his teammate Chirstophe Larigot rounding out the top ten behind Blaze Performance's Bartek Marszalek.
After today's compelling action the world championship will go down to the wire and will be decided at the final race of the season in Sharjah. It is a two way duel between odds on favourite Philippe Chiappe who must score one point and Shaun Torrente who has to win.