October 16, 2022
TEAM ABU DHABI'S AL-QAMZI CLOSES THE GAP ON TEAM-MATE TORRENTE WITH VICTORY IN ITALIAN GRAND PRIX OF REGIONE SARDEGNA
F1H2O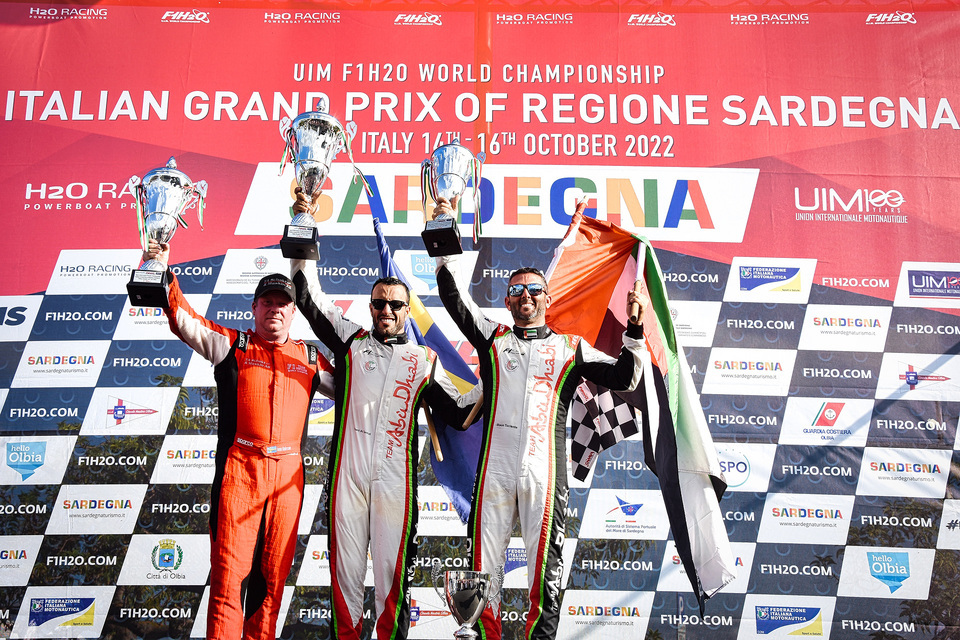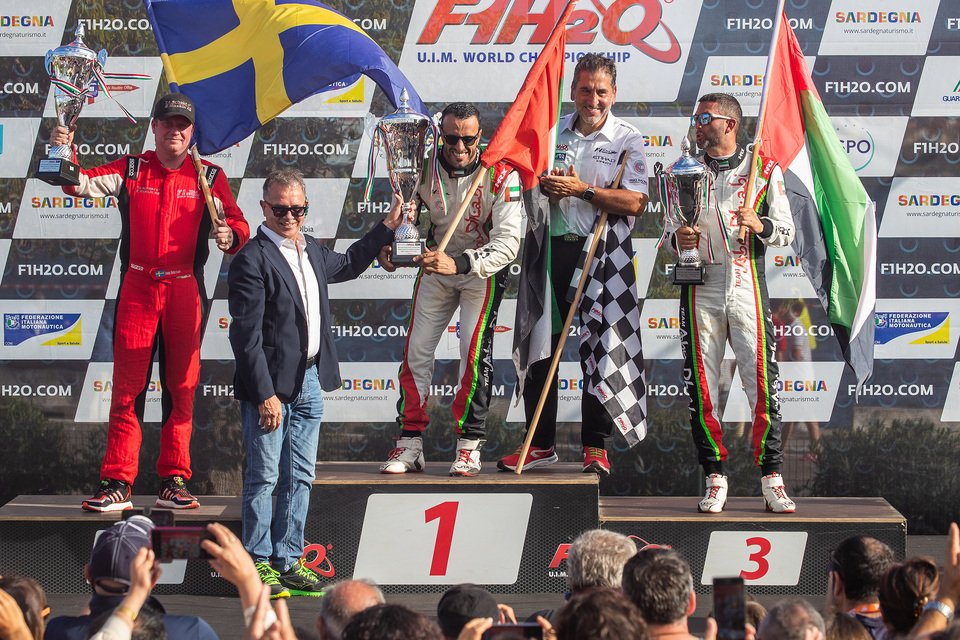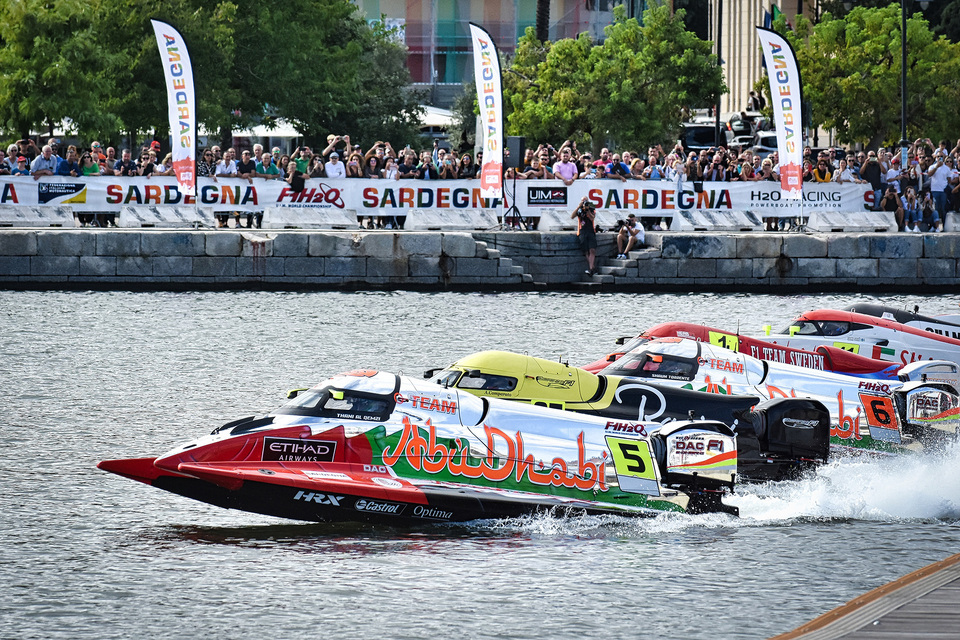 OLBIA (SARDINIA): Sunday, October 16: Team Abu Dhabi's Thani Al-Qemzi closed to within nine points of his team-mate Shaun Torrente in the UIM F1 H2O World Championship after leading from start-to-finish to claim a 2.97-second victory in the Italian Grand Prix of Regione Sardegna on Sunday afternoon.
After fending off a race-long challenge from Team Sweden's Jonas Andersson, a 10th career win for the Emirati earned him 20 championship points and sets up the prospect of a thrilling showdown for the title in December. Second place for Andersson keeps the Swede third in the points' standings, 18 points behind Torrente, who eased his pace towards the end to secure third place and the 29th podium of his career.
A triumphant Al-Qemzi said: "I am happy today to win the race. The start was good. The course helped me. It was a small course but we handled it from the start to the finish. Now we focus on Sharjah and hope to get more points."
Another impressive performance by Gillman Racing's Alec Weckström was rewarded with fourth place and the round three-winning Dutchman Ferdinand Zandbergen rounded off the top five for the Sharjah Team.
Nine of the 15 boats finished the race: China CTIC Team's Phillippe Chiappe was sixth, Norway's Marit Strømøy ended up in seventh and the Maverick Racing duo of Cédric Deguisne and Alexandre Bourgeot were classified in eighth and ninth. Sharjah Team driver Sami Selio held fourth for much of the race before retiring with propeller failure after 58 laps.
Seventy laps on the demanding and shortened 'bullring'-shaped course lay await. The top 10 boats were first off the pontoon in a staggered start and Al-Qemzi held his line to fend off a fierce early challenge from Alberto Comparato. Andersson passed Torrente to snatch third place, but the yellow flag was raised when Team Sweden's Kalle Viippo ran wide and was forced out of the running on lap two. Weckström and Strømøy had both dropped back to 13th and 14th after the opening three laps.
Racing resumed on lap 10 after Viippo's boat had been removed from the course. Al-Qemzi made a superb restart and pulled away from Comparato, who had been plagued by an engine issue a short time before the race. Torrente began to apply the pressure on Andersson for third position, as Al-Qemzi extended his lead over Comparato to 4.34 seconds after lap 16.
Comparato began to feel the heat from Andersson and the Swede managed to squeeze through and take second place with fourth-placed Torrente under pressure from Selio in fifth. Andersson started to whittle Al-Qemzi's lead down and the gap was 2.99 seconds with 47 laps to run. Filip Roms's return to the series with Gillman Racing ended when the Finn withdrew after 19 laps.
Bartek Marszalak suffered technical issues and retired from the race four laps later, as Al-Qemzi headed into his 29th tour with a reduced lead of 1.93 seconds over Andersson. Comparato hit trouble soon after being overtaken by Torrente and began to plummet down the leader board before stopping on the race course and forcing a second yellow flag with 40 laps remaining. Torrente, Selio and Chiappe duly moved up to third, fourth and fifth.
The race restarted four laps later and Al-Qemzi maintained a slender cushion over Andersson at the halfway point, but F1 Atlantic Team driver Duarte Benavente was the fifth retirement with his own technical issues after completing 31 laps. Ten boats remained in the race, with Al-Qemzi leading from Andersson, Torrente, Selio, Zandbergen, Chiappe, Weckström, Strømøy, Bourgeot and Deguisne.
With less traffic on the tight course, Al-Qemzi retained a 2.85-second cushion over Andersson heading into lap 44 and the Team Abu Dhabi driver began to pull clear of the Swede, although Andersson was well ahead of Torrente and Selio. By lap 57 of 70, Al-Qemzi led Andersson by 2.28 seconds and Torrente looked resigned in third, 16.41 seconds behind his team-mate.
Two-time World Champion Selio was forced out of the running with a broken propeller after 58 laps and remains near the foot of the championship standings, as Andersson continued to pressurise Al-Qemzi heading into the latter stages of the race and Zandbergen moved up to fourth with Chiappe in fifth. However, Al-Qemzi held on to claim the win, with Andersson and Torrente rounding off the podium places.
The UIM F1H2O World Championship reaches its conclusion with back-to-back races in Sharjah in mid-December.
2022 Italian Grand Prix of Regione Sardegna – race result:
| | |
| --- | --- |
| 1. Thani Al-Qemzi (UAE) Team Abu Dhabi | 70 laps |
| 2. Jonas Andersson (SWE) Team Sweden | @2.97sec |
| 3. Shaun Torrente (USA) Team Abu Dhabi | @16.04sec |
| 4. Alec Weckström (FIN) Gillman Racing | @18.67sec |
| 5. Ferdinand Zandbergen (NED) Sharjah Team | @21.75sec |
| 6. Phillipe Chiappe (FRA) China CTIC Team | L1 |
| 7. Marit Strømøy (NOR) Strømøy Racing F1H2O Team | L3 |
| 8. Cédric Deguisne (FRA) Maverick Racing | L5 |
| 9. Alexandre Bourgeot (FRA) Maverick Racing | L7 |
| Sami Selio (FIN) Sharjah Team | DNF |
| Duarte Benavente (POR) F1 Atlantic Team | DNF |
| Alberto Comparato (ITA) Comparato F1 | DNF |
| Bartek Marszalek (POL) Strømøy Racing F1H2O Team | DNF |
| Filip Roms (FIN) Gillman Racing | DNF |
| Kalle Viippo (FIN) Team Sweden | DNF |
2022 UIM F1H2O World Championship – Drivers' Championship after round 4 (unofficial):
| | |
| --- | --- |
| 1. Shaun Torrente (USA) Team Abu Dhabi | 64pts |
| 2. Thani Al-Qemzi (UAE) Team Abu Dhabi | 55pts |
| 3. Jonas Andersson (SWE) Team Sweden | 46pts |
| 4. Ferdinand Zandbergen (NED) Sharjah Team | 34pts |
| 5. Alec Weckström (FIN) Gillman Racing | 30pts |
| 6. Peter Morin (FRA) China CTIC Team | 21pts |
| 7. Cédric Deguisne (FRA) Maverick Racing | 11pts |
| 8. Phillipe Chiappe (FRA) China CTIC Team | 10pts |
| 9. Kalle Viippo (FIN) Team Sweden | 10pts |
| 10. Marit Strømøy (NOR) Strømøy Racing F1H2O Team | 9pts |
| 11. Alberto Comparato (ITA) Comparato F1 | 7pts |
| 12. Alexandre Bourgeot (FRA) Maverick Racing | 6pts |
| 12. Bartek Marszalek (POL) Strømøy Racing F1H2O Team | 6pts |
| Sami Selio (FIN) Sharjah Team | 0pts |
| Duarte Benavente (POR) F1 Atlantic Team | 0pts |
| Filip Roms (FIN) Gillman Racing | 0pts |